Broadcast News
22/01/2018
VA Delivers Sound Media Studios For Winchester University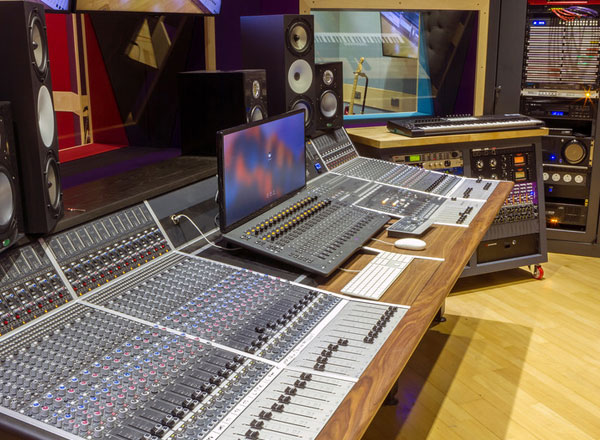 Veale Associates (VA) has created new sound recording and post production facilities at Winchester University; a development that is part of a planned expansion of the facilities at the School of Media and Film.
Winchester commissioned Veale Associates to review their proposals and, following consultation, to create the music and post production facilities dedicated to those training for a career in sound.
The project combines a 5 room complex including two 5.1 control rooms, two live rooms and a ADR/Foley room. The studios are located in the Bowers Building, part of their media facilities. The acoustic design kept the existing maple flooring and the high ceiling allowed for some expansive visual and acoustic designs in the large live room.
Eloise Veale, Creative Director for Veale Associates said: "The ceiling height allowed us to be really creative with the design of the large live room. We created the first acoustic diffuser that provides brilliant sound diffusion together with excellent low frequency control and is the first manufactured by the Italian Wood-Skin company installed in the UK. A very flexible lighting system compliments the design to create the atmospheric mood."
Both control rooms feature Audient new Heritage format consoles, with that in control 2 being fully height adjustable (a first for Audient), complimented with Avid S3s providing highly integrated control for Protools HDx and Logic, together with Focusrite's RedNet Dante powered I/O to provide networkable audio across the entire complex, a rolling rack of RedNet 4's provides remote location recording from anywhere attached to the Universities very capable fibre backbone network infrastructure.
VA's Technical Manager, Richard Liggins, having examined the course structures and content in detail said: "It was determined that 2 studios will be required to satisfy the student access demands and provide enough studio hours for research and development. For the technical specification we chose monitoring by Amphion and Unity Audio, plus a wide rage of hardware and software dynamic and effects systems by SSL, Rupert Neve Designs, Universal Audio, Lexicon, dbx, Waves ,TC Electronic, Drawmer, Warm Audio, Mäag Audio, and Sound Toys to complete the technical design."
VA's President Eddie Veale added: "Understanding the requirement for a versatile and robust project to meet industry standards and expectation is a key starting point. Flagship facilities have become increasingly important in the education sector to attract, meet and exceed the expectations of students in an increasingly competitive sector. We are proud of our collective and extensive knowledge and achievements that enable us to guide clients across all sectors to make choices that will ensure optimal use of resources, and demonstrate a valuable addition to the School of Media and Film at Winchester."
Paul Burridge Head of Projects and Estates Management also said: "We knew we needed to build an industry-leading recording studio. Without doubt Veale Associates were best placed to deliver this for us. Veale's technical knowledge, familiarity with state-of-the-art recording equipment options and their consistent enthusiasm and support for the University's ambitions allowed the project to be completed on time, on budget and to the highest standards. Veale Associates were consistently excellent partners to work with."
"Our ambition for the University of Winchester is to become a leading provider of sound and music education" said Professor Joy Carter, Vice Chancellor of Winchester University.
"Veale Associates understood the Universities ambitions from day one, whilst appreciating the constraints on cost and time. They brought a wealth of industry and higher education experience to the project. The concept from day one was to deliver not only first class education facilities from the visual perspective but studios fully equipped to deliver the key learning objectives whilst achieving the acoustic and technical criteria necessary for studios of this type. We couldn't have done this without the professional and creative input from Veale's leading people Eddie, Eloise and Richard. The outcome is visually stunning, well equipped functional facilities that fully meet the project brief delivered to quality, time and cost."
va-studiodesign.com
Top Related Stories
Click here for the latest broadcast news stories.