Broadcast News
23/11/2017
nhb Expands Reach With Baselight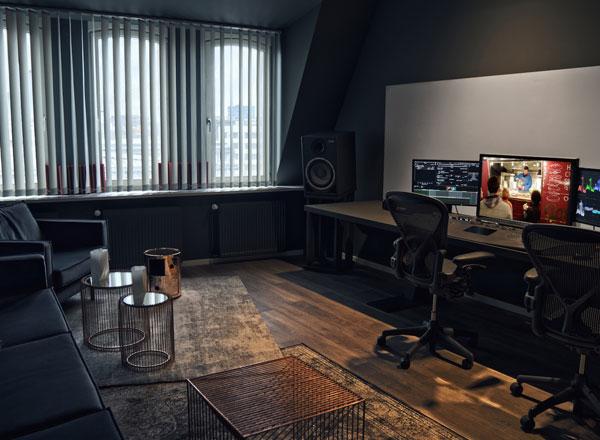 Post-production house nhb has announced the opening of two new facilities, adding a second studio in Hamburg, nhbNEXT, and extending its reach into Munich. These two new smaller sites sit alongside its existing Berlin, Hamburg and Dusseldorf locations.
The company is built around a team of 110 professionals specialised in all aspects of moving image post-production services, high-end visual effects and audio production for commercials, as well as colour grading services with Baselight suites in each location. The five sites are linked by a common network, allowing content to be accessed from any location.
nhb has built a roster of colourists including Pana Argueta, Julien von Schultzendorff, Mike Friedland and German colourist Biggi Klier, who started as a telecine assistant at ARRI in Munich more than 20 years ago.
Klier said: "Our colour team just loves Baselight for its sophistication. All our suites are conveniently connected, so it is very easy to start a project at one house and finish it somewhere else while the clients can sit in any location and watch. We can access projects from anywhere via our server system. On a commercial for Limango I started the grade in Munich, then when the director wanted a little extra work I went to Hamburg where he was based and opened up the timeline to finish the job. Also, being able to import and use the same LUTs as the DOP/editor is so convenient – even though we usually end up with a completely different look."
The company also established an exclusive partnership for Germany with The Mill in London in 2013, enabling real-time HD remote grading using Baselight functionality. So if a German director or client has a particular preferred Mill colourist, they do not need to travel to London or the USA; they can sit in a nearby location in Germany, taking part in the Baselight session as if in the same room.
"We see our collaboration with The Mill as an additional service that completes our in-house colour department," commented nhb colourist, Mike Friedland. "We have worked together with The Mill many times on commercials for Rabobank, Iglo, Tom Tailor and Mercedes, where we did the entire post-production except for the grading."
Mark Burton, FilmLight's Head of EMEA Sales, said: "What I find most gratifying about nhb, its network of post houses in four cities and its partnership with The Mill is that it does not think that portability of content is challenging. In our busy world, you have to be able to work on pictures wherever you can get the right people together. I am proud that we build remote working into the heart of our technology, allowing our users to concentrate on the creative tasks for their clients, wherever they may be."
As well as enabling remote and connected workflows, Baselight brings multiple features and benefits to the team at nhb on a daily basis. Projects include music videos and feature films as well as commercials. Renowned colourist Pana Argueta worked with director Jonas Åkerlund on the Queens of the Stone Age video for The Way You Used to Do, and is now grading a major feature film for 20th Century Fox with the same director. 
"I've been a Baselight user for almost ten years now and, after so many projects, I still feel amazed," commented Argueta. "And the good thing is that most of my clients worldwide recognise the brand, its capabilities and advantages over any other system.
"Baselight is such an accurate and responsive system to rely on to create stunning, clean, beautiful tones even with extreme light situations and many different formats within the same project. Plus, having the capability of working with the original native raw files all the time, without slowing down the process, makes the experience more enjoyable, efficient and productive."
Colourist Julien von Schultzendorff, who started six years ago as an apprentice at Screencraft in Munich, added: "I was instantly drawn to colour grading when I first saw colourist Phil Schmidt working with Baselight in his grading suite. I really love the blend operator that I use for many things like adding scanned film grain or glow to the highlights or even to do sky replacements. I also love the idea that you can put every single operator inside your layer. Where you put your LUTs or curve grades affects the other grading operators so you can really work in a lot of different ways and achieve awesome grades."
filmlight.ltd.uk
Top Related Stories
Click here for the latest broadcast news stories.