Production News
17/11/2017
'The White Princess' To Air On UKTV Drama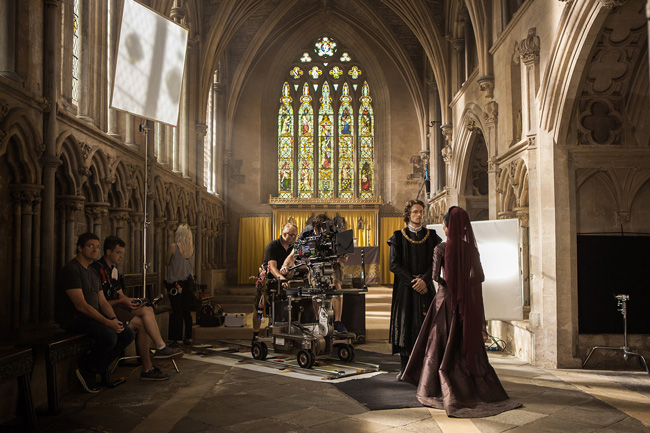 The White Princess is to receive its premiere on British television this weekend.
The STARZ Original Limited Series was filmed across Bristol and in purpose-built sets at The Bottle Yard Studios last year. Coordinating the shoot from production offices at the Studios, the production team also used additional build space, stores and costume areas on site. In addition, Bristol Film Office provided unit bases for filming at locations across the city, facilitating location liaison and organising holding areas at City Hall for around 100 cast extras during a large-scale shoot at Bristol Cathedral.
Based on Philippa Gregory's 2013 novel of the same name, The White Princess begins as the War of the Roses comes to an end and a new generation ascends to the throne in a tale of power, political clashes, family, love and betrayal. A fragile peace is achieved when former king, Richard III, is defeated at the Battle of Bosworth. The victor, Henry Tudor, soon to be King Henry VII (Jacob Collins-Levy), is married to Elizabeth (Jodie Comer), a princess from a rival house and Richard III's former lover.
With her sister, Cecily of York (Suki Waterhouse), Elizabeth matches wits and wills with Lady Margaret Beaufort (Michelle Fairley), King Henry VII's mother as they all manoeuvre to gain his trust. Meanwhile Elizabeth's mother, Dowager Queen Elizabeth Woodville (Essie Davis), struggles with rumours that her long-lost son Prince Richard (Ned Elliot) is alive. Elizabeth is forced to choose between her new Tudor husband and the boy who could be her own blood and the rightful York King.
Made by Company Pictures and Playground, The White Princess is helmed by returning Showrunner and Writer Emma Frost, also on board as Executive Producer, alongside Executive Producer and Director Jamie Payne. Lachlan MacKinnon is Producer, with Playground's Colin Callender and Scott Huff serving as Executive Producers along with Company Pictures' Michele Buck.
Fiona Francombe, Site Director of The Bottle Yard Studios, said: "Every aspect of this production was expertly crafted and beautifully detailed. The crew created a rich period world with their amazing set build, enhanced by stunning and authentic costume and make up design. After the excellent reception The White Princess received in the US, UK fans of expertly made royal Tudor drama are in for a real treat. Shows like this, made for a worldwide audience, are a great illustration of what can be achieved in Bristol and at The Bottle Yard."
Karen Bailey, SVP Original Programming, STARZ, added: "We knew from the early location scouts that the natural scenic beauty of the area was a good fit for the production, but seeing the facilities at The Bottle Yard and discovering there was such a strong infrastructure already in place made the decision to shoot in Bristol an easy one."
Natalie Moore, Bristol Film Office, commented: "Our role in large-scale historical productions like these is to make sure the right support is given to achieve a smooth shoot in the city centre. We had assisted Company Pictures and Playground to film at Bristol Cathedral for the making of Wolf Hall in 2014, so it was a pleasure to have them back for The White Princess last year. It's always fantastic to see the city's impressive architectural and historical landmarks like Bristol Cathedral shining on screen when a show begins to air."
The series begins with a double bill on Saturday 18 November at 9pm on UKTV Drama.
Image: The White Princess; Jacob Collins-Levy (King Henry VII) and Michelle Fairley (Lady Margaret Beaufort) film at Bristol Cathedral, (c) Starz.
www.thebottleyard.com
(JP)
Top Related Stories
Click here for the latest broadcast news stories.