Broadcast News
10/11/2017
Marquis Broadcast's Worx4 X Used On Tour de France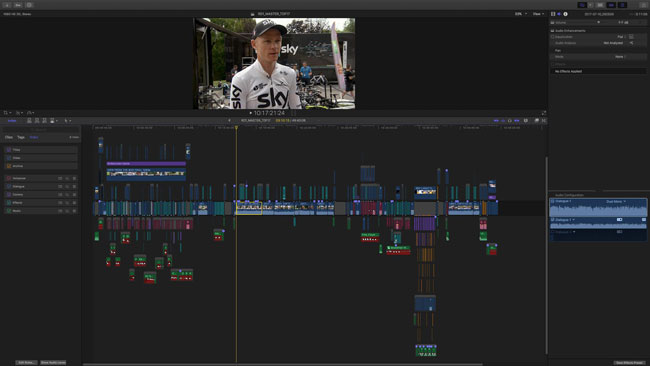 Earlier this year, Marquis Broadcast released the Worx4 X media managing application to help editors, producers and educators, consolidate and manage their media.
Recently, the software was used on the Tour de France production for ITV4, and helped to accelerate production deliver and save significant storage space. Worx4 X reduced the size of their completed Apple FCP X projects by analysing the media that had been used, then creating a folder of trimmed media. This approach also meant no loss in quality.
Peter Wiggins, Senior Editor on the Tour de France programmes for ITV4, used Worx4 X to reduce the size of a single hour-long show from 3161GB to 86.6GB, which was a saving of over 97% or 3TB of storage.
Peter said: "I've just finished a long summer of daily shows, which gave me a good opportunity to thoroughly test out Worx4 X. I had used the app before on corporate videos but this extended run on the Tour de France meant I was using it every day, boiling away the unused media in hour-long shows. It simply isn't economically viable to save every second of unused media in the show, so we used Worx4 X to media-manage each programme."
The Tour de France programmes were compiled from studio recordings, long live feeds and archive clips, meaning their SAN was quickly filling with media – a large percentage of which doesn't make the transmitted shows.
"If we'd used the Library media consolidation tool in Final Cut Pro X, even though we would end up with all the media in a show, we would also end up with the entire media of each clip," he explained. "So, for an intro that showed three seconds of the past 10 winners of the race, consolidation would take the whole clips of each winner. And since we were recording live feeds in two-hour chunks, this would add up to 20 hours of footage or 1.28TB. After running through Worx4 X, that intro gets boiled down to 10 clips, each seven seconds long, including two-second handles, which gives you just 70 seconds of media in total or about 1.1GB at ProRes 422. That's a pretty big saving."
Worx4 X takes the media used in an FCP X project and copies it to a new location whilst trimming with handles, saving space once the required content has been identified. For each hour-long Tour de France programme, the application took about 5-10 minutes to process. The application creates a single folder as an editable archive, containing a new XML of the project that references the newly-created media in this folder
James Venner, Producer of the Tour de France programmes for Vsquared TV, said: "Worx4 X is a great product that really solved a pressing problem for us. The lack of a proper media consolidation tool was an issue that nearly prevented us from switching to FCP X for our broadcast work – it was only temporarily solved by buying more and more archive drives. We were nearing breaking point with an ever-increasing pile of drives, all of which needed to be moved around between productions. Worx4 X has now enabled us to consolidate the drives that we're using down to something far more manageable and has more than paid for itself on day one."
www.worx4.com
www.marquisbroadcast.com
(JP/MH)
Top Related Stories
Click here for the latest broadcast news stories.