Broadcast News
07/11/2017
MTF Services Join Fujinon For Open Day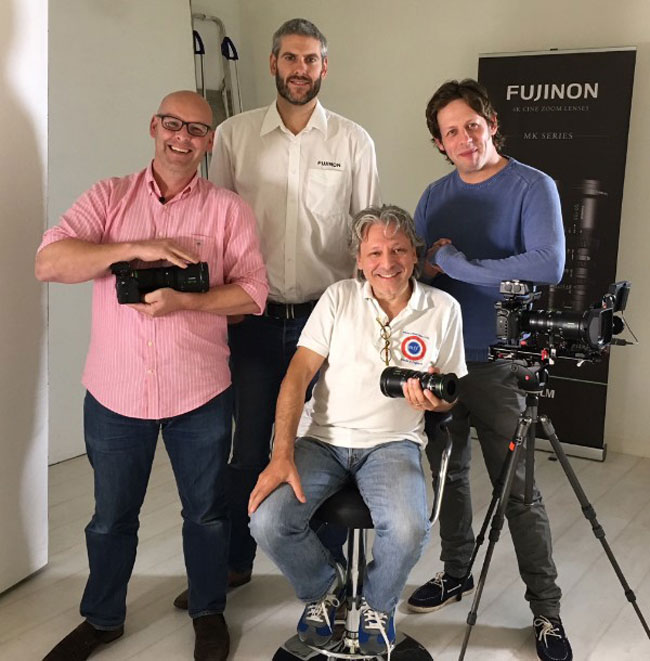 MTF Services recently teamed up with Fujinon for an open day event held at Cherry Duck Studios in London to demonstrate the launch of the recent conversion service and Micro 4/3 Adapter for the Fujinon MK Cine Zoom Lens from MTF Services.
Visitors throughout the Hire A Camera open day were given a first-hand demonstration of the new service and product.
Guy Thatcher, Managing Director, Hireacamera said: "We were really pleased to collaborate with Fujinon for this event. We wanted to create an environment where filmmakers/DOPs could get hands-on experience with the MK Cine Zoom lenses and speak directly to Marc Horner from Fujinon about them. Lumix ambassador Jim Marks was also present to demonstrate the MK lenses on the GH5, using the Micro Four Thirds mount developed by MTF Services. It was great to have Mike from MTF Services at the event to offer guidance on converting MK lenses from E-mount to Micro Four Thirds. Their development of the Micro Four Thirds mount for these lenses is very exciting for us and our large GH5 customer base."
Mike Tapa, Managing Director, MTF Broadcast Services, added: "We had a great day with Hireacamera and Fujinon at Cherry Duck Studios earlier this week. The new conversion service and adapter for Fujinon's MK Cine Lens has been something that many of our customers have been asking for, for some time, and it was fantastic to be able to demonstrate the product, first hand. With the rise (and rise) of Filmmakers/DoPs using Micro Four Thirds systems nowadays, we can only see the adapters growing in demand and we have opened the conversion service along with the product itself, to make the process for the large number of Fuji MK Cine Lens users, as simple as possible."
Image: Guy Thatcher (left), Mark Honer (centre), Jim Marks (right), and Mika Tapa (seated).
www.mtfservices.com
(JP/LM)
Top Related Stories
Click here for the latest broadcast news stories.