Broadcast News
06/11/2017
Leader LV5490 Selected For OB Truck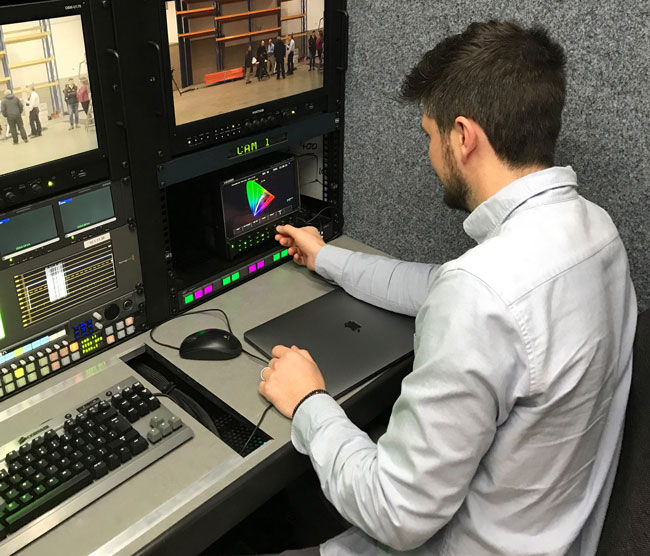 Leader has announced that its LV5490 4K/HDR multiscreen waveform monitor has been selected as the reference test instrument for Video Europe's latest OB and live event production truck.
The new vehicle is the first in Video Europe's fleet to feature 3G-SDI and 12G-SDI infrastructure and has been designed and equipped by Leeds-based system integrator WTS.
Richard La Motte, Engineer, Video Europe, said: "The truck is specified to cater for two quite distinct markets. It is equipped with 3G-SDI capabilities for use with Sony cameras in a traditional live broadcast mode. 12G-SDI connectivity is also included to interface with ARRI cameras for cinematic projects. We were impressed by the Leader LV5490 as it provides all the test and measurement tools required for both modes. Operational and production staff appreciate the straightforward and easy to understand graphical displays, especially the real-time CIE colour chart and real-time false colour HDR display. We have the LV5490 installed in a vision engineering position on the truck. The HD-SDI output is connected to the router so it can be displayed on any HD-SDI monitor in the vehicle. With our current configuration, the external feed from the LV5490 is simultaneously displayed in the gallery where the producer and director can view the overall production."
"Our investment in 12G-SDI product development is now starting to materialise into real projects," added Kevin Salvidge, European Regional Development Manager, Leader. "Many broadcast channel owners are content to sit back and wait for IP standards to be finalised but production service providers have to meet the demands of forward-looking programme-makers. The combination of IP and 12G-SDI provides the ideal platform for 4K/UHD and HDR production. The LV5490 enables Richard and his team to operate with full confidence in both 3G-SDI and 12G-SDI."
Leader's LV5490 offers 4K, UHD, 3G, HD and SD test and measurement features in a half-rack-width by 4U portable unit with a full HD 9-inch front panel monitor. It provides all the facilities required to implement the potential of high dynamic range in both HD and UHD.
The LV5490 was supplied by Leader European distribution partner Thameside TV.
Image: Leader LV5490 in vision engineering suite.
www.leader.co.jp
(JP/LM)
Top Related Stories
Click here for the latest broadcast news stories.