Broadcast News
18/03/2015
2G Digital Adopts Leader's LV5490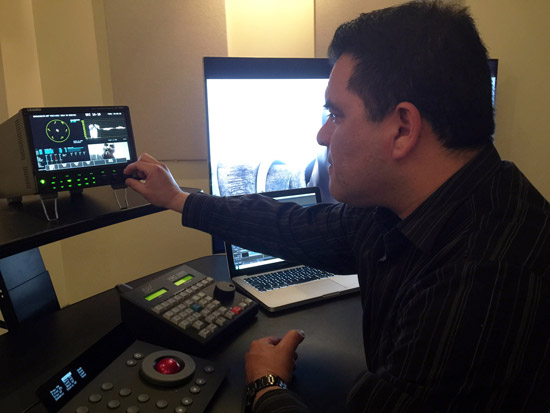 Post-production provider 2G Digital, Burbank, California, has selected Leader's LV5490 SD/HD/4K waveform monitor for its corporate headquarters in the downtown Burbank Media Center district.
Equipped with eight input connectors, the Leader LV5490 accepts up to two 4K signals simultaneously. In 4K video format mode, 3G-SDI dual link or quad link are supported. Up to four 3G-SDI dual link 4K video inputs or up to two 3G-SDI quad link 4K video inputs can be displayed (selectable). Two sets of HD-SDI dual link signals can be displayed (selectable). In the SDI mode, up to four signals can be displayed simultaneously. The LV5490 is also equipped to handle video signals via two-sample interleave as well as square division. Two-sample interleave is the approved standard for 4K.
"The LV5490 is being used in our new 4K bay which we have established as part of our strategy of being a full-service media post facility," said Stephen Buchsbaum, President and Chief Executive Officer of 2G Digital. "The 4K format offers content producers and distributors tremendous opportunities in both high-end digital and broadcast content creation. We pride ourselves on the quality of our signal processing chain and the skills of our technical team. The LV5490 helps us ensure that completed 4K content matches the high expectations of the studios and content producers."
"Leader's LV5490 meets our requirements very effectively," adds Fernando Peter Vazquez, 2G Digital's Vice President of Engineering and Technology. "This cutting-edge test and measurement tool forms a key element of our 4K mastering environment which in turn gives us a huge technological advantage over other post-production facilities. The LV5490 is a highly versatile tool with a wide range of waveform monitoring, vectorscope and data analysis capabilities, all in a compact instrument with a good sized LED-backlit screen so we don't have to find space for a separate rasterizer display. Being able to check 4K, HD and SD signals in a single instrument is also very useful because we can compare signal quality right through the transcode process."
The LV5490 can be operated in a range of T&M roles, including waveform, vector, picture monitoring, SDI signal status (which looks for cyclic-redundancy-check errors and embedded-audio errors), an event log, data dump and four-channel timing display. Leader's CINELITE II toolset also comes as a standard feature, which includes CINELITE and CINEZONE, allowing assessment of relative exposure and overall luminance.
Waveform, vector and picture display can be viewed simultaneously on the LV5490 screen. Simultaneous display and overlay display of multiple SDI inputs is possible. Size and location of individual channel displays can be adjusted using a USB mouse. The LV5490 can also be controlled remotely using standard KVM tools.
The LV5490 incorporates a selection of audio monitoring and analysis tools, available with the Digital Audio option. These include 4 x 4 channels of SDI audio de-embedding, lissajous display, surround sound display and volumetric display. Up to 16 channels of de-embedded SDI audio can be displayed on screen and output as discrete AES3 feeds.
Additional features include video frame capture, instrumentation screen capture, timecode display, ID display and a 4K pattern generator, with embedded audio.
Eye pattern, including jitter waveform display and Dolby decoding, can be ordered as optional facilities along with a CIE 1931/1976 colour space chart, which can display BT.709, DCI (P2) plus BT.2020 which is the 4K standard's full ITU recommended color space.
LV5490 operators can adjust the size of up to four displays on the screen to suit specific tasks. This allows easy magnification and inspection of detail on the instrument's 9 inch 1920 x 1080 HD LCD display screen instead of being limited to fixed size quadrants. The LV5490 also comes with a 1920 x 1080 HD DVI and HD-SDI rasterized output for display on a larger monitor.
www.2gdigital.com
www.leaderamerica.com
(IT/JP)
Top Related Stories
Click here for the latest broadcast news stories.