Broadcast News
26/10/2017
X-Rite Announces New i1Studio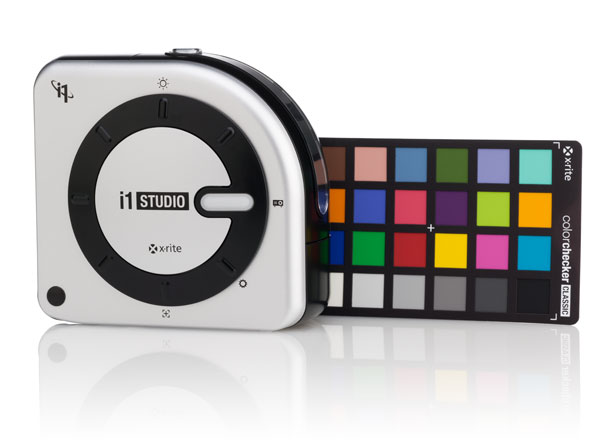 X-Rite Incorporated has announced the launch of i1Studio, an all new start-to-finish colour management solution that delivers expert results from capture through to print.
The i1Studio enables exceptional colour accuracy for photographers, filmmakers and designers of all levels to achieve consistent and predictable results across their workflow – saving time and money. The package comprises the i1Studio all-in-one spectrophotometer, i1Studio software; X-Rite's market leading ColorChecker camera calibration tools and the ColorTRUE mobile app.
Liz Quinlisk, Marketing Director Photo & Video, X-Rite, said: "Photographers tell stories with their pictures. Along with light, colour plays an essential role in telling these stories. We want to make sure that story is told as perfectly as possible, whether it's colour, or black and white.
"Managing colour should be easy with getting accurate repeatable results every time as the ultimate goal. i1Studio provides an intuitive, start-to-finish colour management solution for every device in our users' workflow so they can easily achieve this goal and get amazing results."  
The i1Studio package comes with:
i1Studio Device: The all-in-one i1Studio spectrophotometer is the only device creatives will need to profile their monitors, projectors, scanners, mobile devices and printers.
NEW i1Studiosoftware for Displays, Projectors, Scanners and Printers:The i1Studio software, based on X-Rite's award winning i1Profiler software, provides an easy to navigate interface that delivers expertly calibrated and profiled monitors (including video pre-sets), projectors, scanners and printers, including a new dedicated Black & White print module for creating custom profiles for five unique B&W looks.
ColorChecker Camera Calibration for Cameras: The included industry standard 24 patch target allows creatives to create custom camera profiles, set a custom white balance and have a neutral starting point no matter what light photographers are shooting in for a more streamlined editing process. (Also includes Adobe® Lightroom® Plug-In)
ColorTRUE Mobile App for iOS Devices: A simple way to calibrate Apple® iOS mobile devices for a true mobile to desktop colour match of all images. (Downloadable from Apple App Store)
X-Rite's i1 brand has long been the choice for colour perfectionists around the world and is now extended to the i1Studio. Amongst its wide array of features, i1Studio includes dedicated profiling for Black & White prints, scanners, mobile devices and video monitors. The new i1Studio software is engineered on the same platform as X-Rite's i1Profiler, offering a streamlined user experience with the perfect balance of automation and creative controls. This gives users more options and more control, while delivering prints perfectly matched to their creative vision. 
xritephoto.com
Top Related Stories
Click here for the latest broadcast news stories.