Broadcast News
16/10/2017
Prism Sound's 'Titan' For Gvarjaladze Project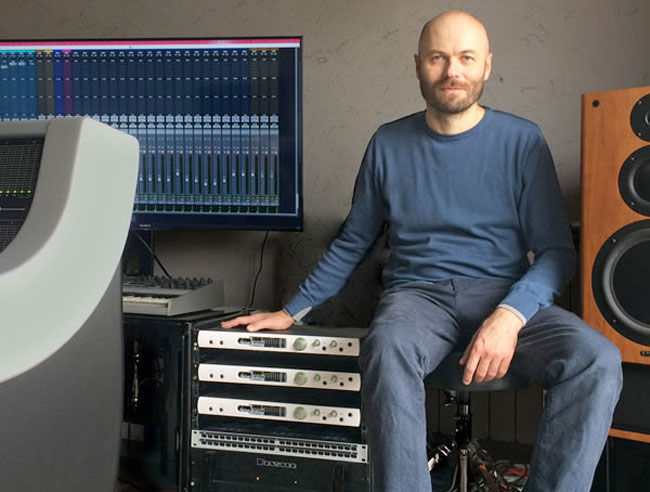 George Gvarjaladze has invested in thee of Prism Sound's Titan audio interfaces for his studio in Tbilisi.
Gvarjaladze, or Gvaji as he's better known, has installed his Titans in Gvaji's Kitchen Studio, a private facility equipped with an SSL AWS 924 Delta console, a Pro Tools HDX system and PMC IB1S monitors powered by Bryston amps.
"The Titans sound amazing," he said. "What's more, the MDIO expansion module allows me to have this rich, magical sound attached to my HDX DSP system. It's also nice that all digital and analogue I/Os are usable simultaneously – and Titan even looks great, not to mention its notably high quality connectors and knobs."
Originally a musician who played guitar and bass with various artists such as Giga Mickaberidze, Irakli Charkviani and Lado Burduli, Gvaji is now more often found behind the desk in the role of producer, sound designer or project manager. He also teaches at Tbilisi State Conservatoire and CES, as well as designing recording studios, film production houses, TV and radio stations, venues and clubs such as Silk Factory Studios, Georgian Dream Studios, Tsinandal Concert Hall, Adjara Music Hall, Georgian Film Studios, Radio Hot Chocolate and the GDS Club and TV station.
As a recording professional who demands the highest levels of sound quality, Gvaji has long been an advocate of Prism Sound technology.
"I first came across the brand in 2002 when Pro Tools HD was released," he explained. "Soon after I began reading reports about the best sounding interfaces for it – and those were Apogee and Prism Sound. I got hold of both for my first commercial studio project – Georgian Dream Studios – and after testing them out I concluded that nothing could beat Prism Sound's Dream ADA-8XR converters. The only problem – for my studio at least – was the price. I couldn't afford them."
Although less costly Prism Sound converters were available, the issue Gvaji faced was that none of them allowed him to link up directly to his HDX DSP system.
"I do a lot of sound post work so having a higher track count and a lot of DSP power is essential for painless mixing," he said. "That was dilemma, it's not easy to give up on Prism Sound once you compare its rich, crystal-clear sound to other, even highest quality interfaces (and I did a lot of A/B comparisons)."
All that changed in 2015 when Prism Sound introduced the MDIO expansion module for its Titan and Atlas interfaces. This solved Gvaji's problem because the module allows multiple Titan or Atlas units to be connected directly to an AVID Pro Tools HDX or HD native system via Avid's Digilink connection. With this setup, Pro Tools users can enjoy the sound quality of both the Titan and Atlas A/D and D/A converters, and their on-board microphone preamplifiers.
Gvaji continued: "My reaction to the launch of this module was 'here comes Titan!' When my units arrived, it took just 15 minutes to unbox them and attach and configure all three to my Pro Tools HDX system. I tested all 24 analogue I/Os to and from my AWS in a snap and the precision was stunning. Do you know what Titan does? It makes your dream about Dream ADA's come true without paying double the price. These units are now my only interfaces and I use them for tracking and analogue mixing. With Titan I feel more confident because all my AD/DA conversion tasks are made by Prism Sound. It's relaxing to know this when I need to go back to analogue and re-digitise material, especially during analogue mixing. Having three Titans gives me 24 analogue I/Os, but I'm now thinking of adding a fourth unit for extra I/O."
www.prismsound.com
(JP)
More Broadcast Audio Stories