Broadcast News
27/09/2017
Dame Diana Rigg Celebrates Iconic Television Shows At Elstree Studios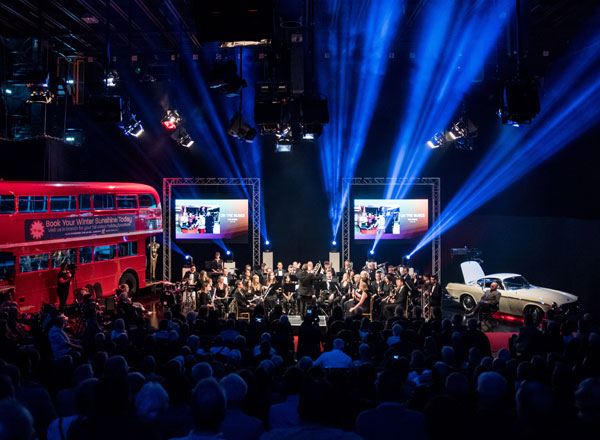 "We continue to make the very best television in the world in this country", said Dame Diana Rigg at Elstree Studios celebration of iconic television production of the 1960s and 1970s on Sunday.
Dame Diana was guest of honour at the event which was held on Sound Stage 9 at Elstree, the very stage she filmed her final scenes of her 51 episodes of The Avengers, back in December 1967.
During the past year we have been celebrating the 90th anniversary of our world famous Studios here at Elstree with a host of celebratory events, as well as the launch of a new book about the Studios.
To round off our 90th anniversary celebrations we celebrated Elstree Studios television production of the 1960s & 1970s; from The Human Jungle to The Saint, The Avengers to Randall & Hopkirk, Return of the Saint to Jason King and more.
Other celebrities who attended the event were Peggy Cummins, Angela Douglas, Norman Eshley, Derek Fowlds, William Gaunt, John Hough, Valerie Leon, Aimi MacDonald, Derek Martin, Derren Nesbitt, Marc Sinden, Jack Smethurst, Anita West, and childhood actor, now MP, Giles Watling. Also visiting Elstree, sadly for the last time, was Darth Vader actor Dave Prowse, who has recently announced he will not be making any further public appearances due to ill health.
During the evening tribute was also paid to the late Sir Roger Moore who became an international star and future James Bond after his appearance in over 100 episodes of The Saint, which were made at Elstree. Exclusive unseen interview material of Roger Moore talking about his days at Elstree was played to the 400 guests after which celebrities reminisced about one of the most adored actors in the business.
The evening concluded with the BBC Concert Band playing music from Elstree film and television productions. These theme tunes include, The Pathfinders, The Third Man, Murder on the Orient Express, The Saint, The Muppets, Superman, The Avengers and The Dambusters.
Morris Bright, Chairman of Elstree Studios said: "It was fitting that for our last event of our 90th anniversary celebrations we saluted our glorious television heritage. To have Dame Diana Rigg as our guest of honour and to hear her speak so fondly of her years at Elstree was very special."
Roger Morris, Managing Director of Elstree Studios said: "Elstree's reputation for high quality television continues to this day. Fifty years ago it was The Saint and The Avengers. Today, it is The Crown and Strictly Come Dancing. We remain very proud of our television work here at Elstree."
elstreestudios.co.uk
Top Related Stories
Click here for the latest broadcast news stories.