Broadcast News
30/09/2014
Elstree Studios Celebrates 100 Year Anniversary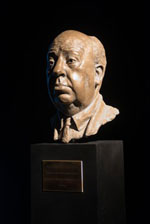 Elstree Studios is celebrating the 100 year anniversary of filmmaking in Elstree and has given a special sculpture of filmmaker Alfred Hitchcock, the master of suspense, to the The British Film Institute (BFI).
To commemorate this centenary year, Roger Morris Managing Director of Elstree Studios unveiled a bust of the filmmaker that it had commissioned and is bequeathing to the BFI's Collections, and the BFI hosted a special screening last week to mark the occasion of Alfred Hitchcock's classic film BLACKMAIL. Made in 1929, the film was Britain's first "talkie" and was filmed at the legendary Elstree Studios.
Alfred Hitchcock ushered in a new generation of filmmaking, making many of his early films at Elstree Studios before he moved to Hollywood in 1939.
Howard Berry of the Elstree Project told the audience about the 100 year history of Elstree and its substantial film and television achievements before the film was screened. For many in the audience, it was the first time they had seen this masterpiece of cinema history.
As a result of the BFI having restored a number of Alfred Hitchcock's films, which are now being screened around the world to new audiences, Alfred Hitchcock is being rediscovered and appreciated as one of the greatest directors of all time.
Mr Morris said: "The BFI is probably one of the most important film organisations in the world, maintaining the finest film, television and news archive. Many films in the archive were made at Elstree.
"We had the bust especially commissioned as a gift for the BFI and I hope as time progresses we will have other film anniversaries to celebrate together. I was also pleased to see the twins from Stanley Kubrick's 'The Shining' at the screening because this classic film marks another chapter in Elstree's great film history. Elstree Studios is a busy working studio today and the BFI's work is extremely important supporting new British films being made and nurturing new filmmakers: the Hitchcocks of tomorrow."
www.elstreestudios.co.uk
(CD)
Top Related Stories
Click here for the latest broadcast news stories.