Broadcast News
25/09/2017
Shift 4 Adds To Inventory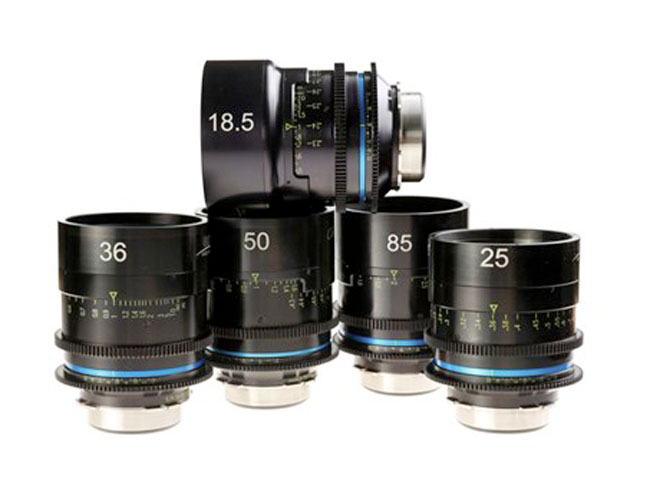 Shift 4 has recently added a number of new products to its portfolio, including Celere HS Prime Lenses, Nikkor AI EF Prime Lenses, Canon PL CN-E 30-105mm T2.8 Zoom Lens and Leica R Lenses.
The
Celere HS Prime Lens Set
ranges from 18.5mm to 85mm, all with a maximum aperture of T1.5 and interchangeable lens mounts – PL and, coming soon, EF. These lenses will soon boast interchangeable front elements for different look and flaring characteristics.
The
Nikkor AI EF Prime Lens Set
comprises of five vintage stills primes from Nikon that have been fully cine-moded. Each comes with an EF mount adapter so they can be mounted on EF cameras.
The
Canon CN-E 30-105mm PL T2.8 Zoom Lens
is a PL mount cine style zoom lens designed for covering 35mm and Super35 cameras with a fixed T2.8 aperture throughout its zoom range.
The
Leica R Lenses
have de-clicked iris rings and gear teeth on the focus. With a vintage look and great flares, they offer an affordable alternative to vintage cine lenses.
The
Canon 5D Mark IV
is an EF mount stills camera with movie recording capabilities. It can shoot 4K internally and includes Canon's dual pixel auto focus with face detection function.
The
Freefly MoVI Pro
is a gimbal with strong gears and an integrated control panel. Its dual batteries provide longer operation time as well as power for the camera itself, while the MIMIC controller allows long range bidirectional control of MoVI pointing, settings, camera controls and real time telemetry. It has a three-axis stabiliser gimbal (pan, tilt and roll), while operation modes include majestic panning. MIMIC can be mounted on bars or a tripod – MoVI Pro will copy the MIMIC's movement.
The
Samyang Optics VDSLR Prime Lenses
are EF mount and fully manual with de-clicked iris as well as standard cine teeth on the ring for easy use with lens control systems.
Lastly, the
Flowcine Serene
is a stabiliser accessory for the Easyrig which acts as a Steadicam, stabilising up and down movement. It's particularly useful for gimbal operation.
Further information on any of the above equipment can be found
here
.
Image: Celere HS Prime Lens Set.
www.shift-4.com
(JP/MH)
Top Related Stories
Click here for the latest broadcast news stories.