Broadcast News
21/08/2017
PMC Speakers Give Marsh Mastering Accurate and Detailed Sound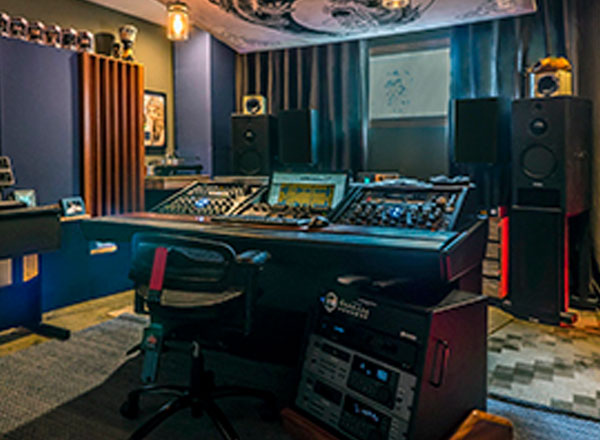 Marsh Mastering, a purpose-built mastering boutique located in the heart of Hollywood, California, has recently undertaken a series of quadrophonic remastering projects for artists as diverse as Alice Cooper, Judy Collins and Sly and the Family Stone.
Stephen Marsh, who owns the facility, has been remastering the original quadrophonic tapes and transforming them into high resolution multichannel mixes in SACD Surround Sound. He has also been remastering original two-channel stereo mixes and transforming those into SACD Stereo and CD Stereo.
Marsh Mastering is ideally placed to tackle this kind of work because it has a room full of custom modified tape machines and exceptional clocking and conversion available, along with proprietary wiring feeding a custom monitor chain featuring Bryston-powered PMC IB1S main monitors and OB1 surrounds. The facility also has a PMC CB6 centre speaker, which is added as and when it is needed.
Stephen Marsh said: "With these old tapes, it's like listening through a time machine so it is vital that I can hear every nuance of the original sound. The PMC monitors have proved invaluable because they allow me to understand exactly what I'm hearing and I can therefore make quick, effective decisions that are both musically appropriate and technically sound."
A native of New York, Stephen Marsh moved to California when he was 19 to take a job at a Sony Music Studios west coast mastering room, working under veteran engineer David Mitson. While there he acquired a firm understanding of modern mastering techniques and after leaving Sony to go independent in 2001 he quickly acquired a reputation for being at the forefront of the mastering industry.
Marsh's ability to get the most out of a set of analogue tape masters has ensured that his facility is now the go-to place for audiophile mastering and authoring. Re-issue credits include albums by Bob Dylan, James Taylor, America, Yes, Nat King Cole, Eric Clapton, Neil Diamond, Crosby Stills & Nash, Heart, Bad Company, Dio, Bread, Phil Collins, Janis Joplin, Blood, Sweat & Tears, Earth Wind & Fire, Joe Walsh and Donny Hathaway
Marsh is also a first-call engineer for film, television and game composers. His long list of mastered scores includes albums with Alexandre Desplat (Argo), Mychael & Jeff Danna (Storks, Life of Pi), John Powell (Rio), Dan Romer (Beasts of No Nation), Blake Neely (Arrow, Blindspot), Aaron Zigman (Sex and The City films), Christophe Beck (Hangover films), Mark Isham (42), Nick Arundel (Batman: Arkham Knights), John Ottman (X-Men), Pedro Bromfman (Narcos), Danny Elfman (Mr. Peabody and Sherman), Cliff Martinez (Contagion), Terence Blanchard (Black or White), Jon Brion (ParaNorman) and Benjamin Wallfisch (It, Annabelle).
Alongside PMC monitoring, Marsh Mastering's technical facilities include a purpose-built hybrid tube/discrete console, which was developed in-house with Steve Firlotte of Inward Connections and features custom and modified processing from EAR, GML, Maselec, TK Audio, SPL, Elysia and Inward Connections.
Marsh added: "We've taken a fanatical approach to signal flow integrity and the results speak for themselves."
The console is capable of operating in both Left/Right and Mid/Side configurations simultaneously, while our console tubes are hand-selected Telefunkens and our elliptical and M/S networks are one-of-a-kind designs from Steve.
While Marsh Mastering can work from any format, the facility specializes in bringing all things analogue to all formats of digital. No wonder then that top producers, composers, re-issue producers, managers, labels and a diverse cross section of major and independent artists from across the globe rely exclusively on Marsh Mastering for their stereo and multichannel commercial releases.
pmc-speakers.com
Top Related Stories
Click here for the latest broadcast news stories.