Broadcast News
28/07/2017
Cineo Quantum C80 To Shine In Lone Star State At TAB 2017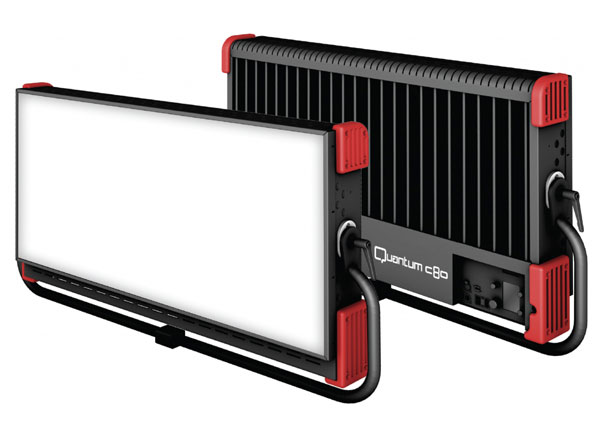 Cineo Lighting has announced that it will display its Quantum c80 (Qc80) full-gamut color lighting fixture at the Texas Association of Broadcasters (TAB) 2017 show.
The Qc80 features 50,000 lumens of Cineo's proprietary color-tunable white light, and also includes a full RGB gamut, which works in conjunction with white light as a complete, creative lighting toolkit.
Rich Pierceall, CEO, Cineo Lighting, said: "The Qc80 was designed as the ultimate creative lighting fixture and has become a broadcast industry favorite for top-rated programs. Following its Best of Show recognition at the 2017 NAB conference, we look forward to showcasing the Qc80's award-winning white light quality and innovative saturated color technology at this intimate, yet influential event."
To support the Qc80's innovative approach to saturated color technology, Cineo has developed a simple, four-channel interface that provides control locally using the system's graphical control panel through traditional wired DMX or with the Integrated LumenRadio CRMX bi-directional wireless DMX/RDM control.
The versatile Qc80 provides predictable, repeatable results for end-users that are unachievable with any other lighting instrument. The same color shading can be achieved through the camera regardless of the CCT used for photography with the Qc80: +2 Green added to 3000K CCT will look the same as +2 Green at 4500K to the correctly white-balanced camera.
In addition to Cineo's proprietary phosphor-converted white light LEDs, the Qc80 is the first unit designed with phosphor-converted saturated color LEDs, thus extending Cineo's deep-red color rendering technology. Cineo's Photo Accurate Dimming, which maps both local and DMX control to camera f-stops, is also fully supported.
Weighing under 50 lbs., the Qc80 measures 2 ft. x 4 ft. x 5.5 in., including the internal 1,000-watt power supply. As with all Cineo products, it features flick-free operation and a silent, passive cooling system without fans to ensure that no noise from the unit will disrupt a shoot.
The built-in USB port provides 5VDC power for accessories and supports uploading of new firmware as new features become available.
cineolighting.com
Top Related Stories
Click here for the latest broadcast news stories.