Broadcast News
03/05/2017
Cineo Lighting Partners With CueScript To Create Custom Matchstix Bracket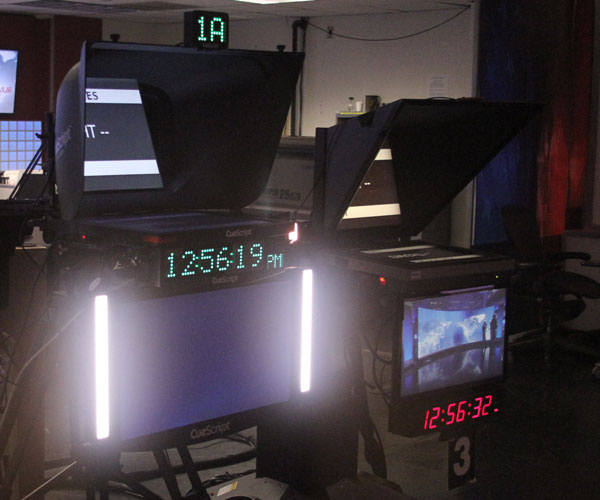 Cineo Lighting has teamed up with CueScript to create custom brackets for its Matchstix color-accurate light source.
The brackets were unveiled by CueScript at NAB 2017 with several configurations of prompter-mounted units on display.
Matchstix is a series of small, Remote Phosphor color-accurate light sources that are available in 3-, 6-, and 12-inch lengths and are 35 mm wide. The brackets, which CueScript engineered in conjunction with Cineo, are designed to work with the standard cold-shoe slot located on the back side of all Matchstix.
Michael Accardi, president of CueScript, said: "In many productions, the lighting director looks to add a small amount of light on the talent to help eliminate shadows and enhance the appearance of their eyes.
"However, the location of the light and its relation to the talent's line of vision is crucial. Our new brackets allow Matchstix to be mounted on the side of the on-air monitors in a clean, rigid set-up. We have designed it so we use Cineo's mounting system to allow the lights to slide in place and lock down in optimal locations with no wobble, no screws and no drilling. The brackets are designed to be adjustable for any angle, and are versatile enough to be used on hoods."
Rich Pierceall, Chief Executive Officer of Cineo Lighting, says that Matchstix lights are commonly used in several high-profile studio settings, including NBC, MSNBC and Fox, where they are attached to studio cameras.
The development of the brackets was in response to a real industry need. The new brackets from CueScript allow crews to easily configure a system that supports the Matchstix on the studio camera teleprompter and allows the proper amount of light to shine on the talent.
Mr Pierceall said: "What makes this system unique is the custom mounting that ties our Matchstix in with the whole CueScript teleprompter system.
"This is an exclusive opportunity to work with a teleprompter manufacturer to provide a product that will make it easier for broadcast professionals to control the lighting on talent who are reading teleprompters in any kind of studio environment."
www.cineolighting.com
www.cuescript.tv
(LM)
Top Related Stories
Click here for the latest broadcast news stories.