Broadcast News
19/06/2017
Leader Appoints Rental Channel Partner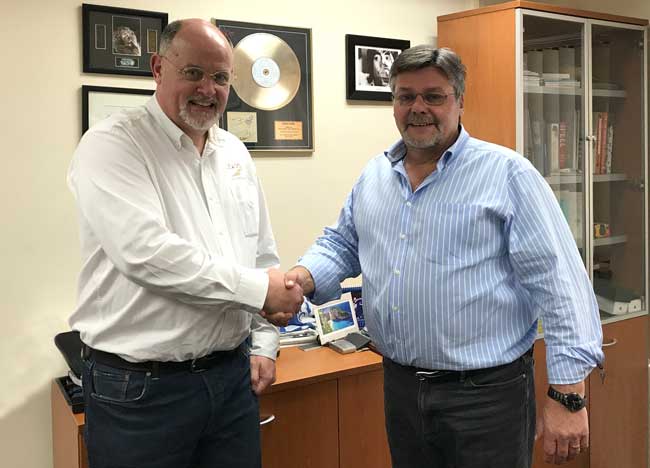 Leader Electronics Corporation has announced Presteigne Broadcast Hire as a rental channel partner.
With offices near London's Gatwick Airport and Manchester, Presteigne Broadcast Hire offers a range of production equipment and also develops packaged systems for specific applications.
Kevin Salvidge, Leader's European Regional Development Manager, said: "With over a quarter-century of experience in dry-hire, Presteigne Broadcast Hire has an excellent reputation and a highly impressive client base. This partnership gives content producers the choice of accessing the LV5490 on a project-by-project basis rather than an outright purchase."
Mike Ransome, CEO, Presteigne Broadcast Hire, added: "We are seeing major growth in demand for 4K production equipment and are very pleased to be adding Leader products to our rental inventory. The LV5490 in particular has established itself as the Swiss Army knife of 4K test and measurement, both for engineers during setup and production crews during live shooting. Our initial investment will be in Leader LV5490 4K waveform monitors, LV7390 4K rasterizers and LV5333 3G/HD/SD-SDI waveform monitors.
"The combination of 4K and high dynamic range has tremendous potential for our clients as already demonstrated by recent technical trials at major sports OBs during the German Bundesliga and the Champions League final in Cardiff. With their versatile feature set, including the ability to handle HDR in Dolby PQ, Hybrid Log-Gamma and Sony's Slog-3, the LV5490 and LV7390 enable our customers to ensure that their creations have the longest possible commercial life."
The Leader LV5490 offers 4K, UHD, 3G, HD and SD test and measurement features in a compact portable unit. Waveform, vector, five-bar and picture display can all be viewed at the same time on the instrument's 9-inch LCD monitor. The monitor is full 1920 x 1080 HD resolution with a wide viewing angle and high quality colour reproduction. 1920 x 1080 HD DVI and HD-SDI feeds are also provided to feed a larger monitor. Simultaneous viewing of up to four 3 gigabit/s SDI inputs is possible, including overlays. The size and location of individual channels can be adjusted on the display using a USB pointer so the user is not limited to fixed-size quadrants.
Recent additions to the LV5490 feature set include a direct-digital 4K noise analyser. Measurement of noise in luminance or RGB component chroma channels can be performed in IP/12G/3G/UHD/HD/SD. Data obtained from the input SDI signal is converted directly without intermediate analog processing, allowing accurate and stable measurement.
Image: Leader's European Regional Development Manager Kevin Salvidge and, on right, Presteigne Broadcast Hire CEO Mike Ransome.
www.leader.co.jp/english
(JP/LM)
Top Related Stories
Click here for the latest broadcast news stories.