Broadcast News
16/03/2018
Digital Cinema Cameras Finally Steal Film's Format Cloths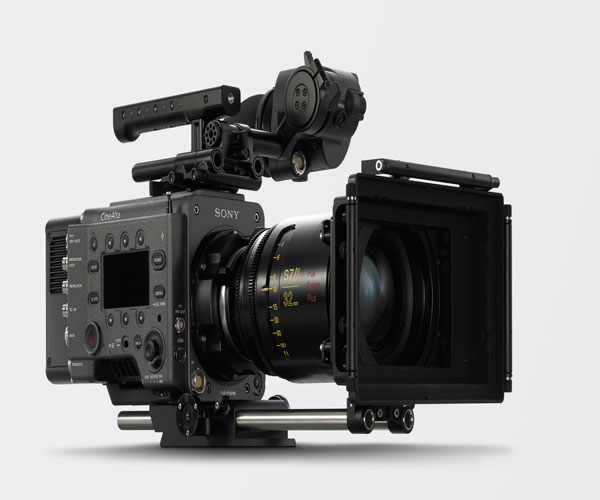 Doing the MONSTRO Mash: George Jarrett talks to the full-frame and large format protagonists at the costly drama and movie end of the camera market.

Like creatures in the wild that increase the number of progeny they produce in food rich years, the lens and camera vendors know a glut of high quality content production when they see one.

Although drama budgets may have peaked and more factual content is flowing at us, the economies of scale with multi-episode American-made drama, and the values of syndication, suggest that drama will continue its top genre rivalry to feature film.

There are multiple dozens of brilliant lens sets offering any look you want, and multiple cameras that cinematographers can trust and accredit as belonging to their 'toolbox'.

Those cameras include Panasonic's VariCam range and the Canon EOS branded options. The glass to find includes the Zeiss Cinema Zoom C2.2 full-framed lenses, and Fujinon's MK series with S35/APS-C sensor compatibility. With digital cinematography all about S35, full-frame, big-format and 65, it is finally stealing film's format cloths.

To look at how this has been done, the sample group were two vendors and two rental houses, that front up two of the very best cameras available.

For the reason that it is the longest serving of the top end cameras, (IMAX has chosen the ALEXA 65 in a technology partnership with ARRI) we start in Munich.

73 feature film credits later
The ALEXA 65 was conceived in Munich. From the inception of the first ALEXA, ARRI Group MD Franz Kraus had desired to create a 70mm version as ARRI had done with film.

"It was always going to be a special camera, and not cheap, and thus be limited in number, so ARRI approached the rental division to see if we would take this on," said Andrew Prior, ARRI Rental UK's Head of Camera and Digital Systems. "We did so thinking it would most likely be a high resolution plates or VFX system. Wrong. Cinematographers immediately embraced it as a main unit camera, and 73 feature film credits later we now understand what the ALEXA 65 means."

It uses the same CMOS ALEXA sensor technology that is in a 35mm Alexa, just larger.

"It uses the same pixel pitch and larger photo sites that all other ALEXA models share, as well as ARRI's Dual Gain Architecture (DGA), which are its two main principles," said Prior. "By employing larger photo-sites, the sensor exhibits higher dynamic range, high sensitivity and low crosstalk. The larger a photo-site is, the more light it can capture and the lower the noise.

"The DGA simultaneously provides two separate read-out paths from each pixel with different amplification. The first path contains the regular, highly amplified signal. The second path contains a signal with lower amplification, to capture the information that is clipped in the first path," he added. "Both paths feed into the camera's A/D converters, delivering a 14-bit image for each path. These images are then combined into a single 16-bit HDR image. This method enhances low light performance and prevents the highlights from being clipped, thereby significantly extending the dynamic range of the image."

A sub-set of the zoom
The first production Alexa 65 was formally used on was The Revenant. What are the attractions that DOPs have jumped on since?

"The A65 allows one to zoom in on different positions of the active sensor image allowing the user to select the area that they wish to focus on. Activating, manipulating and de-activating will be done via user buttons," said Prior. "Zoom Position is a subset of the Zoom. This option determines the x/y position of the zoom. When the Zoom is activated, the user will be able to change the position of the zoomed area."

Seven positions were selected to provide adequate overlay. Moving onto workflow tools, Prior said: "We supply the Vault as the basic workflow tool. ARRI Rental have partnered with Codex to deliver a rapid, cost-effective ARRIRAW workflow."

The new ARRI Rental Vault XL65 can render out full ALEXA 65 Open Gate 6.5K ARRIRAW in 2x faster than real time, as well as simultaneously produce dailies for offline use.

"We can also downscale to 4K or 2K depending on the workflow pipeline required. The system is a rack-mounted, network-attached device that is ideal for a near-set or postproduction configuration. It contains multiple CPU and GPU cores for parallel processing of data and network storage," said Prior.

"The QC of original camera material can be carried out fast and efficiently, while also generating detailed QC reports for production use. The system also includes a full colour pipeline, including support for ACES. A powerful GPU processing engine can transcode to all the formats required for dailies at speeds far greater than real time," he added.

ARRI Rental produced four large format lens lines for the Alexa 65 – Vintage 765 Primes, Prime 65, Prime 65 S, and DNAs, which are customisable and tuneable according to DOP wishes.

The benefits of shorter depth of field
Among the first buyers of Sony's full-frame camera system VENICE (15 stops of exposure latitude) was the rental house Ludwig Kameraverleih. VENICE has also been accredited as Netflix compatible.

Starting with the user attraction to 24x36mm recording, Richard Lewis, Chief Engineer, Sony Digital Motion Picture Centre, Europe, said: "People are looking towards full-frame for a variety of reasons, some of which are to get the benefits of shorter depth of field. This is more or less equivalent to a 65mm system but with 35mm style lenses and accessories.

"Another interest is to be able to produce an anamorphic result but still use spherical lenses, which some people want to do because often a mixture of spherical and anamorphic lenses are part of the storytelling process," he added.

Is VENICE the product of user input, advanced colour science, and the key concept of an interchangeable sensor?

"It's a combination really. We started after we finished the 5 and 55 (five years ago) to look at what people would want to do in the future. A lot said that they wanted a full-frame capability as well as something easy to use," said Lewis. "Another thing that came up strongly was the use of internal ND filters, and we have managed to produce eight."

The assumption with the sensor was variable light performance and a big stress on HDR. "That's right," Lewis continued. "We were aiming for enough resolution, which is why the full-frame sensor is 6K by 4K when you are looking at 36mmx24mm. And then we needed to get the basic performance of the sensor in terms of wide colour space, so we are using the same gamma factor we pioneered in the F65.

"We tested with most of the full-frame glass that is out there, working with the Thalia lenses and the Cooke S/7 lenses, which we used for creating some content," he added. "We are completely astonished by the really smooth roll offs in the highlights, and it is quite amazing how much highlight detail people testing the camera have been able to achieve. It is such a nice gentle roll off. It doesn't clip for a very long time."

VENICE records to the X-OCN format, and it can create any HDR format from the same original content. Support already exists from Blackmagic Resolve V14.3, Baselight 5, Adobe and Colorfront, and NAB will see support in a lot more firmware upgrades.

Doing the MONSTRO Mash
The Panavision Millennium DXL2 – renowned for a very big image – was born of thousands of inputs into the largest rental house in the world. It is built round the RED MONSTRO 8K VV sensor and REDCODE, plus Light Iron Color 2.

"Unlike companies that mass produce a product that goes to people they rarely interface with, Panavision interfaces to the same customers who rent it every single day," said Michael Cioni, VP of Innovation at Panavision and Light Iron. "2017 was our way of deploying the DXL1 and getting daily feedback about performance, look, feel, ergonomics, design and features. We get to talk to DOPs every day."

So the DXL2 was the product of a year of chatting, and the camera ecosystem is boosted about every four months by small upgrades.

"That allows users to test different components together, and that's what went into the DXL2 on the theoretical side," Cioni added. "But physically the MONSTRO is the most advanced sensor we have ever come across. It has the most dynamic range, it has the lowest signal to noise ratio, and there is no noise reduction. The wide gamut is perfect for HDR and super high end TV.

"We are capturing colours way beyond what has been technologically possible. Light Iron Color 2 is very filmic and greatly improved: the feel for colour is really exceptional for HDR projects, and because the sensor is so quiet it means the material is much more malleable. The quieter your sensor is, the more elastic it becomes: you can push and pull when something is of much higher quality," he continued.

There are concerns about this creating a synthetic look. "The opposite seems true. It is so clean that people are able to introduce their own textures and signatures, whether that is grain, a specific type of lens or a specific filter. Any of these have a more visceral reaction with the filter," Cioni explained.

Panavision has nine series of lenses that cover large format edge to edge, and they are a mix of some legacy glass – like vintage lead-based glass created to cover 65mm film – and new designs.

Favouring wider than tall
Cioni believes full-frame is a duff choice for cinema. "That is one of the reasons we partnered with RED: we really liked their roadmap for a 1.89 size gate. Full-frame is actually too tall and not wide enough, because almost all the exhibition outlets are wider than they are tall," he said.

"We wanted to make sure our sensor was going to favour wide than tall. The 1.89 can go up to 2.0 or down to 1.78 with only a small percentage difference and these are all the ways people exhibit," he added. "We wanted a chip that would make it easy for cinematographers to go up and down those scales."

Cioni pointed at massive cropping (20-30%) as a full-frame issue, but it would match to social media if not traditional exhibit formats.

"You are impacting on the resolution of your image, and what parts of lenses you can use, and you capture data you are never going to use. Full-frame almost forces you to have an oblong sensor," he said.

For Panavision, social media is not the primary and most important deliverable, so what is the sweet spot of the DXL2?

"Having that 8K width and 4K height is very versatile. The camera has so much resolution you can afford to throw away some of it. One of our big principles is you do not have to use every pixel," he said. "You might want an extraction, or you might want a smaller aperture inside your larger aperture. Only super high res images can afford to be moved around.

"With the extra pixels and the quality of them, we can afford to manipulate the images – zoom them in and out, re-position and stabilise. That gives more creative control," he added. "We are all trying to use these extra pixels to make an image better and to make a story stronger, which is why the MONSTRO is so good."

At 60-bit depth, the colours are optimised for super HDR, and look future-proofed for display technologies yet to emerge.

Hitting a sweet spot
RED put up John Marchant, technical director of the Pinewood based hire company Kipper Tie. WEAPON in hand, he said: "It is very often the camera that is able to answer yes to the largest number of questions. You always find a job where you need an extreme in some direction or other, and it does fulfil some of the extremes, but actually it sits in a sweet spot in terms of the combination of practicality, picture quality, and the usual dimensions people are looking for in terms of frame rates, dynamic range and aesthetics."

"You could go to the superior aesthetics on the Arri side and suffer in terms of ergonomics and file formats. You can go to higher frame rates by moving over to the Vision Research stuff, and you can even go to the deeper levels of practicality with some of the Sony gear, but the RED just hits a sweet spot that hits most of that in one camera," he added.

The modularity (kit) basis of the RED suggests high accessories costs, and time spent assembling. But there is a benefit.

"In a lot of cases size can be quite a big deal because we have moved into a world where people regularly use camera stabilisation and drones. This and other stuff requires the camera to shrink, and very often we are seeing that as a benefit," said Marchant. "The modularity means we are talking about extremely basic functionality that has been moved onto separate modules: if you take the bare camera brain of the RED right now you take it out of a box and have no way of connecting power to it, or of getting video out of it. It is purely a component until it functions as a camera."

"So there is a degree to which established cinematographers find that can be a turn off because they are not sure what they are going to get in terms of hardware functionality when they rent something," he added. "As a good rental company you can guide people through that process, but the modularity is definitely a double edged sword. I would not give it up because it means we can fulfil a lot of different functions without stepping into different workflows, different file processing, and different muscle memory in terms of how you operate the camera. The firmware and the software are supremely consistent."

The MONSTRO Mash is a catching thing: "The key thing is it is just not one camera. You don't have to shoot at its maximum resolution and maximum sensor area in order to have a full-compatible system," said Marchant.

"It is arguable that to get the best out of a RED camera in the past you always had to use the maximum resolution. Now with the MONSTRO you can shoot the 6K S35 (extraction) with no compromise. It looks exactly like an S35 6K camera would do," he added. "The flexibility regarding shape and size that we capture without having to drop to lower than acceptable resolutions effectively gives us multiple cameras in one."

Marchant accepts that the one wild-west area is people not understanding fully about HDR and deliverables, due to the different 'standards' from HLG to HDR10+. But this is soon to vanish.

"If we have shot RED RAW or Arri RAW we have got a nice thick file to go back to. All of these cameras have been capturing high dynamic range images for a long time. It is just a post workflow consideration how we map that data," said Marchant. "However, I think we are not yet understanding what to do creatively speaking with HDR."

A shorter back focus
The launch by Arri of the Alexa LF coincided with the appearance its Signature Primes: were they purpose created to get the best out of the camera in terms of shallow focus and dynamic range?

"The Signature Primes are designed for large format cameras with an image circle of approx. 45mm. Since the lifecycle of lenses is very long, these primes should also perform with future sensor generations," said Arri optical systems product manager Thorsten Meywald "We see a trend for smaller pixel size and more pixels and more dynamic range as well, which requires modern high performance optics."

"We are introducing the Signature Primes together with the ALEXA LF and the new LPL mount as the ARRI LF camera system," he added. "However, the lenses and the mount will stay much longer in the market – because camera lifecycles are shorter. The LF system ARRI is a new format with its own aesthetics. It fills the gap between S35 format and the ALEXA 65. Cinematographers get a look which is closer to the ALEXA65."

The LF system will find credits in feature films, TV drama, and commercials. The primes will match well to the Alexa Mini, and loads of other cameras, from the likes of Sony and RED.

"Our philosophy is to make products users can mix and match on set. The Signature Primes are lenses with a shorter back focus and this allows for easier adaptation to other camera systems," said Meywald. "We are licensing our technology to other partners in the industry and so far companies like Angénieux, Cooke, Zeiss, Leica, Vantage, and Panavision have already adopted our technology."

Cinematographers allocate a mythical 'look' to lenses per company, so with the Signature Primes how does Meywald define that look? He said: "They have all the benefits we know from MP and UP, but are specifically designed for digital sensors and the aesthetics of human skin tones. Compared to other lenses they are technically very sharp and free of optical aberrations, but at the same time they render skin tones in a very natural and organic way and create a lively image full of dimensionality. It is a modern look, which opens new creative choices. The new primes give back the aesthetics of film without the unwanted artefacts."
Top Related Stories
Click here for the latest broadcast news stories.