Broadcast News
20/11/2015
Successful Year For ARRI's ALEXA 65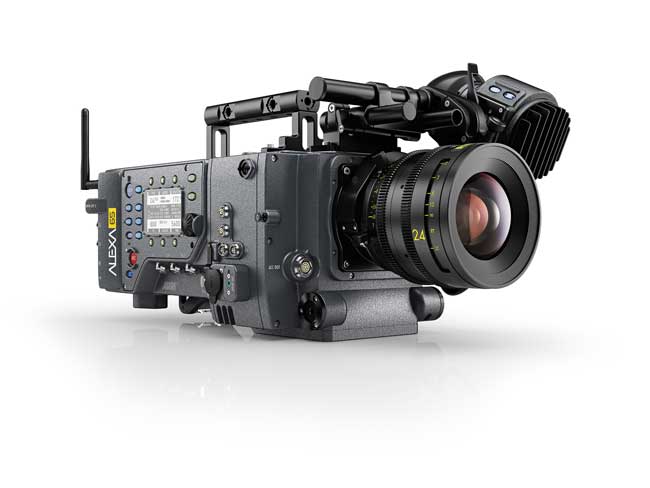 Since its first preview in 2014, the ARRI ALEXA 65 has achieved a number of feature film credits.
ARRI Rental has said two key elements of the product's success its ability to seamlessly mix with other ALEXA camera family members – such as the ALEXA XT and ALEXA Mini – as well as its cost-effective workflow, with postproduction facilities such as Pinewood Digital in the UK putting strategies in place to assist productions shooting with the system.
This year, ARRI Rental has supported 18 major feature films with ALEXA 65 camera systems. Productions where ALEXA 65 cameras, Prime 65 lenses and Vault Lab 65 workflow systems were used for selected sequences, and often in harsh environments, include:
Mission: Impossible – Rogue Nation
(DP: Robert Elswit ASC),
The Revenant
(DP: Emmanuel Lubezki ASC, AMC) and
Snowden
(DP: Anthony Dod Mantle ASC, BSC, DFF). In addition, The Great Wall (DP: Stuart Dryburgh ASC, NZCS) was the first feature film to utilise the camera on main unit throughout production.
Since then, the ALEXA 65 has been involved as either the A-camera on main unit, or as an additional camera for sequences that require high image quality, in a number of productions. Feature films that have selected the ALEXA 65 as main unit camera throughout production include
Rogue One: A Star Wars Story
(DP: Greig Fraser ASC, ACS),
Doctor Strange
(DP: Ben Davis BSC) and
Assassin's Creed
(DP: Adam Arkapaw) in the UK;
Passengers
(DP: Rodrigo Prieto ASC, AMC),
Live By Night
(DP: Robert Richardson ASC) and
War for the Planet of the Apes
(DP: Michael Seresin BSC) in the U.S./Canada; and
Planetarium
(DP: George Lechaptois) in France.
London has also been popular for ALEXA 65 productions in 2015, with postproduction company Pinewood Digital, based at Pinewood Studios in Buckinghamshire, able to support rapid adoption of the camera. Through its investment strategy and previous experience with ALEXA XT and the ARRIRAW format, Pinewood Digital has been able to handle ALEXA 65 dailies and workflow for three major UK-based feature films running simultaneously.
James Corless, Group Head of Pinewood Digital, said: "During 2012, Pinewood Digital invested in an ARRIRAW and bespoke dailies support infrastructure at its Shepperton and Pinewood postproduction facilities. With the announcement of the open gate version of the ALEXA XT in 2014, additional investment was set in place to support productions such as Avengers: Age of Ultron. Following ARRI Rentals' ALEXA 65 camera and workflow preview at Camerimage 2014, we knew that the game was set to change and that this camera was going to drive a new standard in high-end motion picture capture."
Darren Woolfson, Pinewood's Group Director of Technology, added: "We took the decision to go back to the drawing board and overhaul our entire dailies infrastructure and data pipeline for the ALEXA 65, investing in networking, storage and more recently 4K screening and QC services, with a view to setting in place multi-production capacity for the camera. During recent weeks the investment has proved valuable, with three ALEXA 65 productions running concurrently and an average of nine ALEXA 65 cameras in full-time use across Pinewood Studio's facilities. We're turning around peak daily data payloads amounting to 40 TB of ALEXA 65 ARRIRAW across three shows into graded dailies for editorial, verified LTO-6 tape backups, and then recycling 2 TB capture drives for the camera back to set, all within 24 hours.
"The infrastructure investment has allowed us to deal with three times the image data from the ALEXA 65 compared to the ALEXA XT without passing anywhere near three times the cost back to production. And with real-time, uncompressed 4K playback and theatrical screening services now in place at the John Barry theatre at Pinewood Studios and the Adrian Biddle Theatre at Shepperton Studios, clients can see the full beauty of their ALEXA 65 images within 24 hours of capture."
Martin Cayzer, CEO of ARRI Rental, commented: "We are very pleased that our first year with the ALEXA 65 has gone so well, and proud of all the productions that have chosen to use the system. Many postproduction houses around the world have been servicing these projects and are well set up to manage the workflow, with Pinewood Digital setting the benchmark by installing infrastructure that has enabled it to accommodate the needs of three ALEXA 65 films at the same time. This is a great achievement, but also illustrates what a useable system it is."
www.arrirentalgroup.com
www.pinewoodgroup.com
(JP/LM)
Top Related Stories
Click here for the latest broadcast news stories.