Broadcast News
26/05/2017
2017 HPA Tech Retreat UK Programme Announced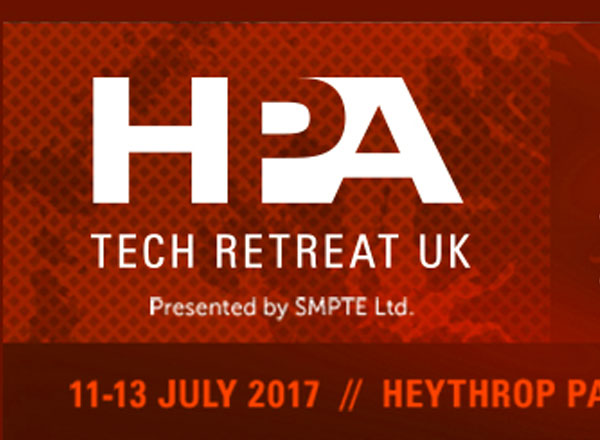 The initial programme for the second year of the HPA Tech Retreat UK has been announced and it is to feature industry leaders, technology trends and compelling projects.
The event is a gathering for those engaged in the many disciplines supporting the creation, management and dissemination of content across the dynamic distribution environment. The HPA Tech Retreat is presented in association with SMPTE Ltd., returning to beautiful Heythrop Park Resort in Oxfordshire, 11 to 13 July 2017.
This year, in addition to the main programme and supersession, a half-day TR-X session focusing on Augmented Reality (AR), Virtual Reality (VR) and Mixed Reality (MR) will be held 11 July. TR-X debuted earlier this year in California to a standing room only gathering of creatives and technical experts.
Seth Hallen, President of HPA, said: "We all hear extensive discussion of VR-AR-MR, yet there are few places where the hands-on, latest workflow from acquisition through delivery is explored. TR-X does that. The event is developed and overseen by experts who understand the real-world implications of the content and technologies and bring unique information to the programme."
The HPA Tech Retreat UK programme includes the following sessions, with additional topics and speakers to be announced shortly:
TR-X: The Reality of Virtual, Augmented, and Mixed Realities
Tuesday, 11 July, separate registration
There is a lot of curiosity, hope, hype and promise surrounding Virtual Reality (VR), Augmented Reality (AR) and Mixed Reality (MR). The question is, however, what are the realities associated with these platforms? During this very timely TR-X session, learned experts will explain the complexities of VR, AR and MR. You will learn how and why the brain responds to VR, including the psychological and physical responses. A planned case study, based on a well-known feature related VR experience, will explore real world application of the VR/AR/MR technologies. Finally, you will hear experts in the field share a study about the missing elements that are needed to make VR work for real.
The SuperSession: The Format Explosion
Wednesday, 12 July
• The Versioning Explosion –
Eric Pearson, of Pixar Animation Studios, will discuss the detailed, collaborative work that goes into versioning their iconic movies. Exploring the creative decisions about what to version, the subtle nuances of tailoring each movie to the culture and customs of local territories, and the technical hurdles facing the industry's most challenging version pipeline, this session will enlighten and enthral as we dive into Pixar's cinematic world.
Speaker: Eric Pearson, Post Supervisor for Home Entertainment at Pixar Animation Studios
• The Supply Chain Explosion
Industry leaders discuss how the huge number of formats and burgeoning data mining of content and audiences are affecting the supply chain.
Speakers: Jim Bottoms, Executive Director, MESA Europe  
• Predicting the Explosion in Advance: Planet Earth II 
An exploration of the BAFTA Award winning BBC wildlife series and the balance required to deliver a cutting-edge visual experience planned years in advance of the technology rollout.
Speakers: Andy Quested, BBC; Andrew Cotton, BBC; Andrew King, BBC; Rob Drewett, RED Digital Cinema  
• Exploding the format: Lost in London
In 2002, within the course of a night, actor and filmmaker Woody Harrelson found himself in a misadventure in Soho that eventually landed him in jail. Earlier this year, Harrelson directed and starred in an unprecedented live feature-film event that recreated his crazy adventure. This session explores the creative and technical thinking behind a live movie experience and how this was achieved in a single take, with a single camera, while racing around busy central London – streamed live to cinemas worldwide.
Speakers: Chris Brandic, Sales Director, Broadcast RF; Nick Fuller, Technical Project Manager, Broadcast RF. Additional panellists announced soon.

• Exploding the archive 
The implementation of digital cinema has resulted in a history of films being unavailable to theatres unless converted to a digital cinema package (DCP) format. Digital restoration makes films more accessible while offering the opportunity to enhance content using modern display technologies. Panellists consider the benefits of restoration, whether this constitutes enhancement or ruins the authenticity of a film, monetisation of the archive, whether now is the right time to be restoring films and many more questions.
Speakers: Adrian Bull, CTO, Cinelabs  
Main Program
Thursday, 13 July
• AI and Machine Learning across all media applications from data to creativity
• Connectivity for next generation production
• Cloud applications and tools: the practical reality
• HDR Colour Pipeline 
• Key Trends from Consumer Electronics
• European industry update
• Much more to come when the call for proposals closes!
Richard Welsh, SMPTE Education Vice President and Co-Chair of the HPA Tech Retreat UK, outlined what attendees can expect: "The Tech Retreat is the melting pot where creatives and technologists discuss and debate the challenges and opportunities now and in the future of the media industry. It's here you sit with your peers and hear directly about pioneering projects, real world challenges and solutions and get to see the future of our space.
"The Tech Retreat is built on the latest and most in-depth information, rooted in the SuperSession, a day-long deep dive into one topic; followed by the conference, running concurrently with the innovation zone where you can see the latest tools and technologies presented by experts. There are also breakfast round table discussions to explore a wide variety of user interest topics in a small group setting. Most importantly, the Tech Retreat is a fabulous forum for open conversation in a relaxed and fun environment.
"The social program with the Tuesday night barbecue and Wednesday dinner bookended by drinks and music (dance? Only if you want to!) ensure that the Tech Retreat is just that. An opportunity to escape, reset your mind, refresh your thinking and spark creativity amongst the most innovative thinkers, immersed in the most compelling programme, and surrounded by the cutting edge of technology. All this is HPA Tech Retreat."
More sessions are being developed and will be presented on the HPA Tech Retreat UK website.
Welsh noted: "Additional programme submissions are still open, and you have until 30 May to apply. If you have a compelling project, or information or a perspective you see as valuable for the community, we encourage you to apply." Submissions are accepted through the HPA Tech Retreat UK website.   
The HPA Tech Retreat UK will take place at Heythrop Park Resort in Oxfordshire, about 90 minutes by train from London. In addition to the seminars, the Tech Retreat is intentionally designed to facilitate ongoing conversations and networking, with a full complement of social opportunities. The HPA Tech Retreat Innovation Zone, a curated demo area, will feature the latest technologies and experts.
hpatechretreatuk.org
(MH)
Top Related Stories
Click here for the latest broadcast news stories.