Broadcast News
17/12/2021
Main Program Announced For HPA Tech Retreat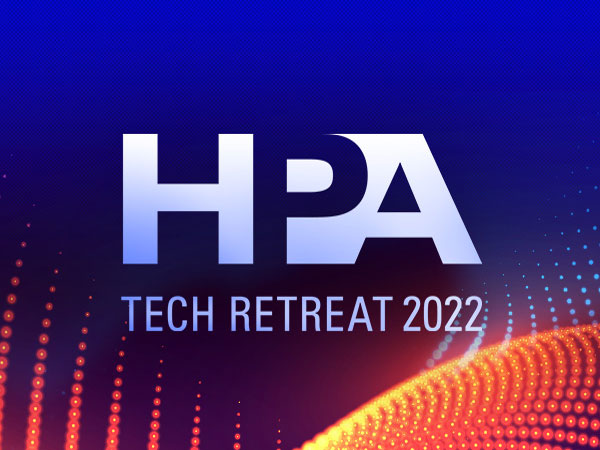 The Hollywood Professional Association (HPA) has announced the main program for the 2022 HPA Tech Retreat, which returns to an in person event from 21 - 24 February at the Westin Mission Hills Golf Resort & Spa in Rancho Mirage, CA.
Comprised of the main conference program, Supersession, TR-X and the Innovation Zone as well as extensive networking and meeting opportunities that are incorporated throughout the four day event, the Tech Retreat is a limited-attendance event that draws the most prominent creatives, technologists, and executives working in entertainment technology and content creation.
eturning to in-person for the first time since February 2020, the 2022 HPA Tech Retreat will adhere to strict health protocols. In cooperation with the venue, the Retreat will be presented in a hotel "Safe Zone" staffed by COVID compliance officers. All attendees must show proof of full vaccination. Masks will be required when not eating or drinking. Attendance is limited and onsite registration will not be permitted.
The main program, which will take place the Wednesday and Thursday of the Tech Retreat, is a guided exploration of the issues of importance and concern to the industry and a look at exciting developments in relevant technology. Curated by the Tech Retreat's legendary technologist Mark Schubin, the program has set the agenda for the industry in many ways over the past 25+ years, and conversations at the event have sparked many advancements.
The 2022 main program sessions will include:
Wednesday, February 23
Introduction & Technology Year in Review – Mark Schubin
CES Review – Peter Putnam, ROAM Consulting
Decoding CES 2022: The Consumer Trends That Will Impact the Media and Entertainment Industry – Mark Harrison, DPP
Hub Not Home: Why New Ways of Working Aren't About Covid – Mark Harrison & Rowan de Pomerai, DPP
Remote, Mobile, and Live Workflow Innovation Updates – Moderator: Mark Chiolis, Mobile TV Group
Media in the Cloud: A Reality Check – Chris Lennon, Ross Video; Renard Jenkins, Warner Media; Mike Strein, Disney/ABC; Mike Palmer, Sinclair Broadcasting; Shawn Maynard, Florical Systems
Academy Digital Preservation Forum (ADPF) – Andrea Kalas, Paramount Pictures
The Five Golden Rules of Media AI – Rowan de Pomerai, DPP
The Creative Impact of AI-Assisted Color Pipelines – Moderator: Michael Chambliss, International Cinematographers Guild; Dado Valentic, Color Intelligence; Michael Gioulakis, Director of Photography; Von Thomas, Digital Imaging Technician; Maxine Gervias, Picture Shop
AI-Based Video Codecs and Semantic Video Search – Rob Gonsalves, Avid
ML/AI: Pitfalls, Progress & Opportunity – Moderator: Renard Jenkins, Warner Media
AI - Winning Bet or Existential Threat? – Rich Welsh, Deluxe
Broadcast HDR – Mark Aitken, Sinclair Broadcast Group
Display Mapping for Versions – Kevin Wines and Tom Graham, Dolby Laboratories
ASC Presentation of Standard Evaluation Material II - The Mission
Thursday, February 24
MovieLabs Progress Report – Leon Silverman, MovieLabs
MovieLabs Visual Language/MovieLabs Ontologies and Universal Pictures – Leon Silverman, MovieLabs; Horst Sarubin, Universal Pictures
The Definitive Guide to Modern Cloudspotting – Michael Cioni, Frame.io
Special Cloud Collaboration Editorial Project – Moderator: Dave Hoffman, Blackmagic Design
What Does System Integration Look Like in the Cloud? – Dave Van Hoy, Advanced Systems Group
Cloud & Remote Production – Coordinator: Seth Hallen, Light Iron
Carbon impact of production – Cedric Lejeune, Workflowers
ACES Roundup – Coordinator: Annie Chang, ACES Project Chair
Color Processing with OpenColorIO v2 and the Academy/ASC Common LUT Format – Doug Walker, Autodesk
Quality Control Across Multiple Grades and Displays – Amaury Louarn, Joachim Zell, & Ronan Boitard, Barco
Test Patterns for Reference Monitors – Norm Hurst, SRI International
New Pseudo-Logarithmic Function and a New Color Space for Encoding of High-Dynamic-Range Camera Data – Harald Brendel, ARRI
SMPTE Update – Thomas Bause Mason, SMPTE
Technical Foundations of Non Fungible Tokens for Video Engineers – Michelle Munson, Eluv.io
Production WiFi Best Practices – Patrick Sumby, Sohonet
Changes to the program and speakers may occur and will be noted on the HPA website.
www.hpatechretreat.com
Top Related Stories
Click here for the latest broadcast news stories.