Broadcast News
23/08/2017
Tackling The Format Explosion At The Second Annual HPA Tech Retreat UK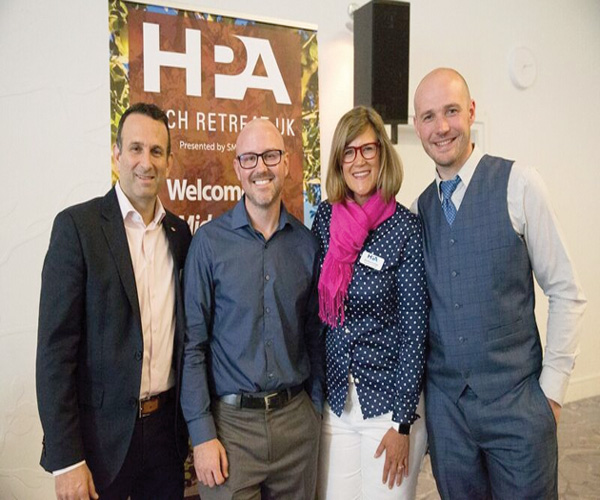 The HPA Tech Retreat UK is fast becoming a must-attend event for the cognoscenti of professional content production in Europe, as the US iteration already is for the North American community that meets annually in Palm Springs, California.

Unlike trade shows where most of these leaders meet, the HPA Tech Retreat offers a real chance to relax into proper discussions and connect and re-connect with contacts. With everything from keynotes and lively social events to the Innovation Zone, where the latest products and technologies are there for exploration, the HPA Tech Retreat UK continues to establish itself as an engaged and engaging event.

Cutting across much of the agenda – and front of mind for everyone from CEOs to engineers –– was awareness of the explosion in formats and versions used to serve the global market on ever-multiplying platforms.

Delegates enjoyed an invigorating keynote from Eric Pearson, home entertainment supervisor at Pixar Animation. He explained how, with just a team of seven, the company created a remarkable 7,482 new shots for international versions of 'Cars 3'. This type of image localisation entails catering to the nuances of culture, something Pixar takes extremely seriously by making artistic changes to frames or whole sequences — such as the substitution of culture- and language-appropriate text in newspaper headlines in the background to ensure a joke or plot line is followed.

"Machine-trained automated speech to text may not yet be good enough for BBC One," admitted Stephen Stewart, vice president of global content operation at BBC Worldwide. "But it's getting there," he added. "We can expect to see artificial intelligence encroaching more and more on the content creation, production and delivery ecosystem in a very short time."

SMPTE Fellow and BBC Standards Lead Andy Quested chaired a discussion of the format minefield that went into creating BBC Natural History series 'Planet Earth II'.

"If you're going to the ends of the world, you want whatever you do to be future-proofed," explained producer Elizabeth White. "What we didn't know then, was how it was going to be post-produced. So, we recorded with no real knowledge it was going to be finished as UHD, let alone an HDR product."

This staggeringly complex show, produced over four years and shot on at least 16 formats, accumulated a 400-to-1 shoot ratio.

BBC R&D's Andrew Cotton explained how the broadcaster helped devise the hybrid log gamma (HLG) format of high-dynamic-range (HDR) imaging to serve both legacy and new TV sets with HDR.

The HPA event began with a series of expert reports on virtual, augmented and mixed reality (VR, AR and MR). While recognising recent achievements, the discussion indicated that the industry needs to take a reality check.

"Perhaps the biggest problem is that there is no audience for VR yet," said Zillah Watson, a former current affairs producer who is now editorial lead on future content and storytelling projects for BBC R&D. "We haven't got a way of distributing VR to an audience to find out what they want from the experience."

She said the industry has come a long way in creating hard news programming in 360° since the BBC's first news experiment from the Calais migrant camps in 2015, but it was clear that there are still challenges to overcome before VR news goes mainstream.

"360° has been justified by the broadcast news industry as a gateway to VR. It is not. I question if there is any evidence that watching 360° will make a user want to watch on a VR headset. 360° video on mobile or in browsers will not drive people to VR. If we don't create a good content ecosystem that people want to explore and view and we don't make headsets better, then the whole thing won't work," said Watson.

BT Sport's Andy Beale provided evidence that VR can attract a positive response from audiences, sharing the background of the live streamed VR experience for the UEFA Champion's League final in early 2017.

"We're not doing VR just because we can, but only if it adds value," said Beale. "Rather than saturate viewers every week with it, we want to keep it as a tool for big occasions."

One of the best received sessions was a call to action to extend racial and gender diversity across the industry. IBC project manager Jay Sakallioglu moderated a talk with Geoffrey Okol of ITN Productions, multi-cam operator Abigail Dankwa, and BAFTA's Emma Perry rejecting tokenism and calling for a proactive stance to encourage greater range within craft and technician levels. 'Diversity is not only common sense; it helps media companies adapt to the fast-paced environment, capturing ideas and delivering on innovation', said Okol.

Details for 2018 HPA Tech Retreat UK will be announced at the HPA Tech Retreat in Palm Springs, California, in February. More information about the HPA is available at hpaonline.com.

Top Related Stories
Click here for the latest broadcast news stories.