Production News
16/05/2017
Production Guild Of Great Britain Enhances Member Services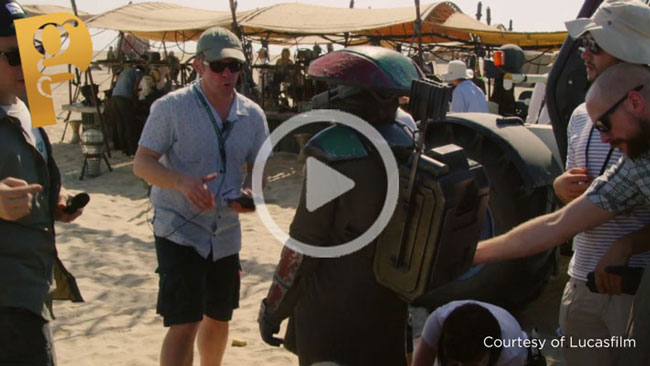 The Production Guild of Great Britain has enhanced its online member services as part of its new website, it has been announced. The enhancements are designed to link productions to crew in the UK faster and more efficiently, as well as to better support members with their career development.
Addressing the surge in production levels that the film and television industry in the UK has experienced in past years, the website's new features have been developed to facilitate better communication and connectivity between productions and the Production Guild's 900 members working in film or television within the production office, production accounts, location management, VFX, post-production or assistant directing roles.
The new website features:
• A more comprehensive Availability Service – enabling members to provide more accurate information about their availability, professional skills and experience, different types of work they are seeking and on what basis (full time, part time or ad-hoc). New date functions, availability blocks and extra information fields allow members to state exactly when they are free for work. As a result, productions can now save time by searching for crew by the dates they are available, as well as their name, grade, production, overseas location, language and IT skills, meaning they can find the best professionals that fit their schedules. A new shortlisting feature allows users to create custom-made shortlists and share as PDFs.
• An enhanced PGVision platform featuring 'Close Up' – a new series of video interviews made in partnership with The British Council that sees some of the Production Guild's most experienced members sharing insights about working in their particular field, e.g. 'Close Up with Tommy Gormley, 1st AD (Star Wars: The Force Awakens; Mission: Impossible – Rogue Nation; Star Trek Into Darkness)'. Browsers can also watch seminars and panel discussions on a range of key industry topics.
• An improved Production Update section – this has been rebuilt to give members a more comprehensive picture of UK projects. Search functionality has been improved so that progress of projects in different stages of development and production around the country can be checked, helpful for regional members working outside London and the South East.
• Member Resources – with best practice tips and advice on issues including part-time working, industry agreements, box rental, health and safety, latest HMRC updates, UK and international tax relief, paying international talent, holiday pay calculations, accessing trainees, auto enrolment and the apprenticeship levy.
Alison Small, CEO of The Production Guild, said: "At a time when the UK is globally recognised as the destination of choice for so many international film and programme makers, demand for crew is consistently high. We're delighted to launch our new website which will better support the job seeking and career development needs of our members. Amongst the most skilled professionals in the world, it's their hard work that helps the UK deliver outstanding results and maintain its reputation for production excellence.
"We're particularly excited to present our improved Availability Service which, with new date functionality, allows productions to search for crew in a more targeted way than ever before. We're confident this will be an invaluable tool that will make it easier for crew to find their next project within this freelance industry, whilst helping productions identify the perfect candidates for their future crewing needs. We hope it will also help our members obtain more flexible working patterns during busy periods of industry activity."
Guy Barker, Chairman of The Production Guild and Financial Controller, added: "One of PG's key priorities is to support members at every stage of their careers, from new entrants starting out, to seasoned professionals who have been integral to the production of some of the biggest titles ever made. With the support of PG's affiliates, we can tap into a whole network of experienced professionals whose expertise can be shared with those coming up in the industry. That's why the PGVision platform has been developed further – to boost the sense of legacy within the industry whilst enabling the next generation of professionals to learn directly from the best."
Image: Close-up with Tommy Gormley, 1st AD. Courtesy of Lucasfilm.
www.productionguild.com
(JP)
Top Related Stories
Click here for the latest broadcast news stories.