Broadcast News
12/04/2017
Festival Recognition For Shetland My Land, My Home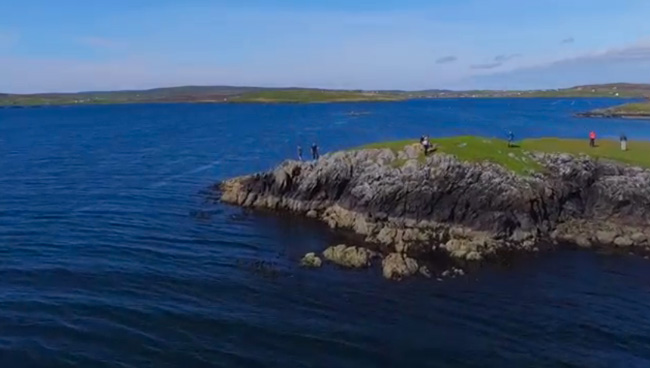 Article contributed by Thomas Haywood, from Thomas Haywood Aerial Photography.
Recently, I entered Shetland My Land, My Home into several film festivals and have been getting some kudos for it too.
The film came about because I am a member and volunteer leader for Outdoorlads (
www.outdoorlads.com
) and they were doing an event up in Shetland. I had never been there and thought it would be good to take my drone too.
Outdoorlads, being a national charity, brings gay and bi folk together and thus preventing loneliness. I sometimes do pro-bono work for them and whilst I was up there for the week, we were blessed with some amazing weather. The Chairman of the trustees was there so we set to work and did some aerial footage which is featured in the video
here
for Outdoorlads.
With the weather being so good, I did not stop filming that whole week and had an excess of footage. We had been to Eshaness Cliffs, Unst, St Ninian's tombolo and beach, Walls, as well as off a fishing boat. The boat was a challenge. There are several factors in play there:
Turn off the distance limitation on the drone. It will take off and will not recognise that the pilot has moved. When it gets to 500m from take-off it will not exceed it and you will have to go back within its flying zone.
When flying you have to take into account the wind and the direction of the boat into account too.
Landing it in a boat is not that simple – it is best to catch it mid-air – but for that you need an assistant. It gets challenging to do that when on the open waves (boats go up and down too!), and when you land it on the deck of the boat, air turbulence is at play too.
There is no emergency landing area other than the boat when out at sea.
The wind strength can also be a challenge. You do not want your drone to be blown away there. Wind strengths can often be higher out to sea.
Having such a wide variety of footage (I'd put the cart before the horse in filming terms), I wondered what to do with it.
I turned to my colleague, Sabine Klaus-Carter from Creation Editor (
[email protected]
) because she had worked very well with me in the past. She put together a rough edit which was good and we discussed how to progress this further.
I had an idea. I researched some facts about Shetland and then thought we needed a "local" to voice these ideas up and add some context. This would also add some authenticity to the piece too.
Through business networking I know Gavin Bell of Blue Cliff Media (
[email protected]
) who comes from Lerwick. I let him use some of his creativity to help produce a very good commentary.
Unwittingly, this became a group effort but a very good one too. I submitted the film to several film festivals and was lucky to be in the selection for the Berlin Flash Film Festival. So sit back and enjoy this short film.
Watch Shetland, My Land, My Home below.
www.youtube.com/watch?v=CBse-jZoWNo
For more information, please see:
www.thomashaywood.com/aerialphotography
Image still from Outdoorlads promo video.
(JP/LM)
More Aerial Filming Stories