Broadcast News
08/03/2017
Hovercam Goes On The Hunt For Sharks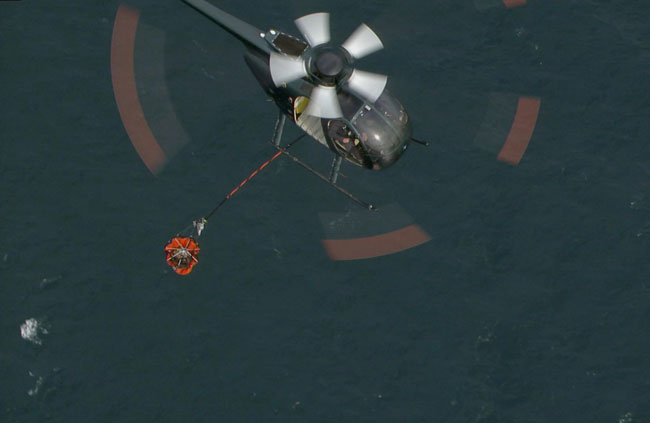 Hovercam's Benet Allen went shark-baiting with the team from ITV's Fishing Impossible...
They told us it was going to be straightforward, if a bit smelly. Two helicopters, and a 'Bambi bucket' full of what was described either as 'fish soup' or 'chum' – pour A into B, fly it out to the boys on the boat, and drop it in the water behind them. To attract sharks, of course. For Hovercam, that was a first.
Phil George and I flew into their landing site, round the back of a farm in deepest Cornwall, where we found our flying buddy Andrew Harvey and his daughter were already kitted out with their similar Hughes 500 helicopter, doors removed, ready to fly Fishing Impossible star Jay Lewis with the bait in the bucket dangling underneath, ready to drop at a moment's notice. A small crew from the production team had the delightful job of filling the bucket with the stinking fish soup – raw, rancid fish heads and other unwanted swimmy stuff in a vile liquid.
The idea was that Jay would pull the trigger, unfurling the bottom of the Bambi bucket and so dropping the stew into the water. We would fly alongside, overhead but preferably not underneath, and catch the action on our gyrostabilised HD camera rig. But it didn't quite work out like that.
There's nothing quite so splendid as a formation of Hughes 500s – our own little Apocalypse Now. But radio comms between the two helicopters was complicated by the fact that Jay wanted to record his feelings during the flight out to the boat – pretty excited, to summarise – and we couldn't do much more than follow G-BIOA with the bait and film from all angles, as much as we could. And in the end, after a 15-minute flight over the Carrick Roads, down past Falmouth and out into the English Channel, we found the boat we wanted with two more of Fishing Impossible's stars on board. Once we were lined up – careful calculations had been made to put the camera helicopter in the right place – above and upwind of the bait helicopter, alongside but far enough away to see the whole picture, and the fishing crew sailing slowly into wind… they pulled the trigger.
It didn't quite work as planned. The chum didn't get dumped; it turned out later that the fish heads were jamming in the cables which held up the inside of the bucket, so the result was more of a smelly dribble than a sudden dump. But the effect was pretty good all the same; we got some great pictures, Jay did several pieces to camera inside a helicopter with the doors off, and (we hope) the fishing team lured their sharks!
Benet Allen is Chief Pilot at hovercam.com.
(JP/LM)
More Aerial Filming Stories