Broadcast News
12/04/2017
Pronology Announces Support For NewTek's NDI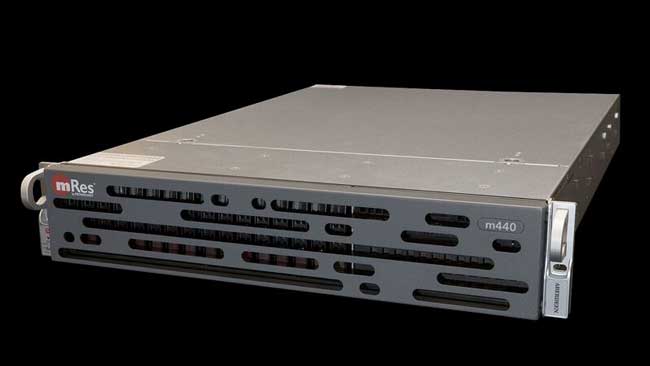 Pronology has announced support for software-driven IP workflows using NewTek's NDI technology. The company will integrate NDI into its mRes encoder enabling it to be recognisable as a source by other NDI-enabled applications and devices connected to a standard Ethernet local area network.
Pronology's mRes encoder converts information from one format to another for the purposes of standardisation, speed or compressions. NewTek NDI is now being integrated into mRes, providing users with an entry point into supporting IP technology.
Introduced at the 2016 NAB Show, mRes is Pronology's first standalone encoder. It records multiple tiers of video per SDI or IP input channel without missing a frame of action. mRes allows for the creation of a high-resolution media file, an edit proxy and a live web-streamable proxy. The uncompressed recording architecture of mRes means it can instantly deliver to the various departments throughout a production pipeline (which all require different codecs, wrappers and resolutions), a full range of file formats without any loss of quality or signal degradation.
Jonathan Aroesty, president, Pronology, commented: "In terms of moving forward and further growth, Pronology recognizes that there is a need within its customers to be IP-compatible. We expect that NDI will be well-adopted in the industry on a wider scale and feel that NewTek is the right technology leader to collaborate with on this important new area of potential growth."
Michael Kornet, Executive VP of Business Development, NewTek, added: "Software-driven IP workflows are quickly becoming ubiquitous in video production to accommodate the high bandwidth of video encoding and transportation. NDI-enabled products, like mRes, exponentially increase the video sources available for live production, creating efficiencies and opportunities for customers that did not previously exist. NDI is the most widely adopted IP technology on the market, epitomized by the millions of customers with access to it today."
www.pronology.com
(JP/LM)
Top Related Stories
Click here for the latest broadcast news stories.