Broadcast News
03/03/2017
Do We Trust Our EVF?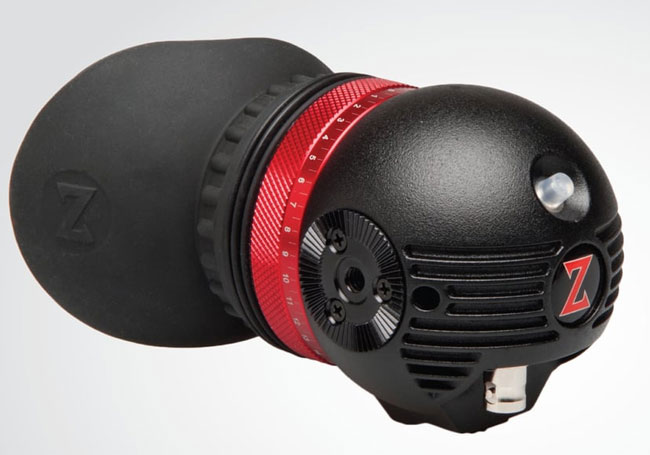 Recent experiences have led me to question the qualities camera operators and Directors of Photography (DoPs) expect from EVF, viewfinders and monocular loupes. Having owned and operated Panasonic cameras for many years I am a fan of the so-called Varicam look, so the arrival of the Varicam 35mm sensor format was of great interest. By Sean Russell, Freelance Lighting Cameraman.
I recently attended a small showing of the latest Panasonic cameras and a review of their footage together with a panel discussion with four Directors of Photography. Enjoyable and informative, I was however unexpectedly led to question how do operators and DoPs use their EVF viewfinder. Which EVF attributes do they expect to see and use and which do they discard?
During the screening and following discussion, much was talked and liked about their look, ergonomics, multiple codecs, increased dual native sensitivity, bit rate, colour space, but after 90 minutes of review no person on the panel, the manufacturer nor the audience had mentioned what I believe to be crucial. The EVF, monocular viewfinder. How did they find its quality, resolution, screen overlay information, ergonomics and robustness?
In my experience, when selecting a camera the viewfinder is an integral and important component to evaluate. Do we trust what we see in the eyepiece to provide a good representation of the scene upon which you not only frame composition but reliably interpret the values upon which we make technical judgements? So its relevance deserved more than a footnote.
When asked the question, how did they find the OLED EVF viewfinder, no-one had formulated any opinions on it. When pressed on whether they could interpret technical and compositional aspects of the scene with the OLED EVF alone, they all considered that they did not, nor would not judge focus, aperture or lighting contrast with an EVF monocular. They would always go to a large monitor elsewhere to make considerations.
The idea of referring to a larger calibrated monitor on set for technical assessment is a direction that many now follow as do I if time and budget allows, but it has not always been so.
Was the question misjudged? But this is one of the most expensive monocular EVFs in the market. If ignored, it derides the recent innovations and development costs attributed to the EVF eyepiece.
DoPs working on drama and commercials work a different convention to single operator shoots, with regard to focusing. A focus puller alleviates the operators need to get it right. The scenes lighting and aperture can be judged on a larger monitor but they are also safe in the knowledge there will probably be money and time for a grade. However, every day many people working on single operator PSC shoots for television and Internet delivered corporates and viral content, make technical decisions from what they interpret from the EVF monocular.
As a single operator I make the aperture assessment through the eyepiece. I also judge framing and scene contrast and focus with it. Invariably there is no larger set monitor to refer to; not because we don't have one but because the shoot's momentum is focused on getting the shots required in time and production's rely upon the operator they hire to deliver it quickly.
Nothing is new about the collision of work practices between the film and television worlds but cameras are now delivered with a shared remit of providing for both. This camera is aimed and priced with owner operators in mind. The main thrust of the question to the panel of how they found the EVF viewfinder was to see if the price tag justified money well spent.
The Panasonic Varicam Lite 35 camera is approximately £15,500 (including VAT) plus an additional £5,500 (including VAT) for the EVF viewfinder, equivalent in price to the ARRI ALEXA EVF. This is a big uplift in price for those purchasing or leasing the kit. If costs are broken down, the viewfinder is an additional third of the cost of camera purchase so I thought it worthy of consideration.
I recall my first experience of being unable to properly assess a scene in either colour or black and white. This occurred when I worked with an original Red One camera on location in a gold foundry, making ingots with fired crucibles. The viewfinder and the colour workflow on that model made it a totally different experience to my previous working on cameras. Those days my confidence was not in the viewfinder but in my Sekonic light meter. From the arrival of the Red camera system we operators became a Rosetta Stone, interpreting the camera set up to the potential finished look for exposure, colour and contrast. We have moved forward from that point and the EVF viewfinders have closed the gap.
With the dash for increased resolution, faster refresh rates, the EVF is more than a framing aid. Camera developers strive to provide the monocular as the ultimate on set visual aid. Today's operational duties of a jobbing cameraman have multiplied and a trusted tool that keeps his head down and his attention focused on the scene at hand is a keeper.
This brings us to a newer dimension in viewfinders; the variety of third party companies offering EVF viewfinders. This development allows operators to bring their preferred viewfinder onto each job and attach it to whichever camera they are operating, this gives them continued confidence and continuity whilst working.
In my opinion, last year's emergence of the Zacuto Gratical Eye EVF is a major step forward. It stepped away from the DSLR set up of old with magnifying loupes over small screen lcd monitors. Zacuto took seriously the issue of quality visual monitoring. It is directly challenging the camera manufacturers and creating a competitive and viable choice for consumers.
It is lightweight, bright with great resolution and a third of the price of other high-end EVF, viewfinders, but with a big technical punch allowing it to compete for our attention. Screen data and marker overlays, false colour, waveform, multi-colour line peaking, zebras, LUT import & representation all go to making me as an operator feel safe and confident. But what's more vital is its ability to transfer to my camera of choice.
Camera manufacturers obviously don't want us to turn to other products and so whilst many operators will now bring along their EVF of choice, camera manufacturers will try to tie in their EVF system to their camera by integrating critical proprietary data info, menu functions and by specialist connectors. I also wonder if they will abandon the current retail trend of a split cost of a camera body and viewfinder. Reverting back to combined all in price as they used to do.
I hope they don't, as I like this new landscape of mix and match. It makes sense for owner operators to spread the cost of a preferred agnostic production tool to work across whichever model of camera they choose. So even when one eye is concerned with technical interpretation and framing, the other eye is focused on the costs.
I appreciate that small 5" and 7" on-board monitors are often used, but as an operator I do not want to judge focus or exposure on it. I also need a diopter ring. The notion of watching a monitor whilst operating handheld or mounted pushes operators away from the technical intimacy with the camera and ultimately away from the relationship with the scene.
Whilst there will be technical quality differences between the Zacuto EVF and its higher priced competitors, it already closed the gap considerably. It also solves a major bug-bear of mine with the Sony F5/ 55 viewfinder cable, connecting and extending at a right angle to camera body, so now whilst operating handheld passing through a doorway I don't strip the connector.
I need to put my trust solely in the monocular EVF to interpret the scene. Invariably it's all I have got. Which in turn brings me back to my question of the assembled discussion panel of DoPs. Could they learn to trust an EVF monocular alone?
www.srcamera.com
This article has been contributed by Sean Russell, Freelance Lighting Cameraman.
For more information, including full specs and videos, of the Zacuto EVF, please visit:
www.zacuto.com/gratical-eye-sdi-evf
(JP/MH)
More Broadcast Cameras and Camera Equipment Stories