Broadcast News
28/02/2017
IBM Cloud's Aspera Simplifies Large Content Sharing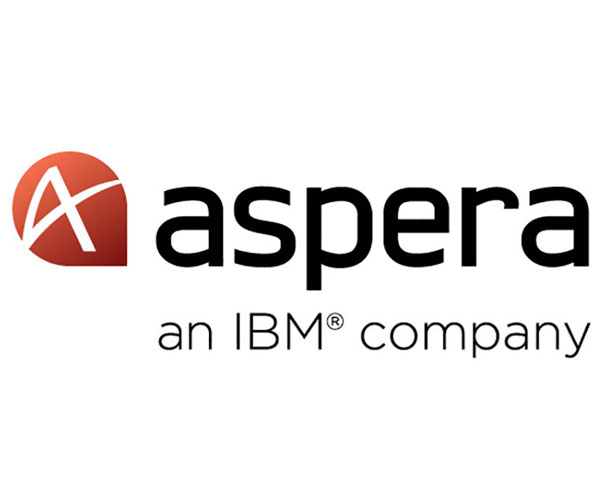 IBM has announced a series of updates to its IBM Aspera Files Software as a Service (SaaS) offering designed to further simplify the fast and secure sharing and distribution of large files and datasets via the IBM Cloud.
Key to the updates is the new Express mode feature which dramatically simplifies large content sharing, sending and receiving with an ultra-simple user interface. Users can switch between full Files and Files Express mode with 1-click of the toggle switch in the app.
In addition, Files now includes built-in support for the new hosted multi-cloud IBM Aspera High-Speed Transfer Service (ATS), a hybrid multi-tenant service for fast and secure big data transfers to, from, and across cloud object storage systems seamlessly connecting public and private clouds with on-premises infrastructure. ATS provides high-availability and automatic scale-out supporting data transfers with cloud storage at up to 20 Gigabits/second per region from any distance, and providing back of cloud services to meet variable demands, significantly reducing operational complexity.
Express Mode
The new Aspera Files Express mode dramatically simplifies the fast and easy sending and receiving of large files and large data sets, including entire directories, between remote creative teams. It supports easy drag and drop of files and folders to create digital packages that can be sent reliably and securely from any location to anyone with an email address at maximum possible speed with no size limits.
Now users can also create short personalized URLs to send as public invites to receive large files and directories from other team members. Users can easily view and access all package details and quickly download each individual file in the package or the entire package of files. Any package or invitation link can be expired automatically or on demand. All the advanced features of Files are still available and just a click away.
Aspera Files also offers the ability to extend the file sharing capabilities of Files to any cloud storage by seamlessly connecting shared folders in Files to an instance of the Aspera High-Speed Transfer Service (ATS) running in that storage region. ATS includes Aspera's direct-to-cloud transfer technology enabling high-speed, secure transfers to, from and across cloud storage with scale-out to over 20 Gigabits/second per region. Shared folders in Files can also be connected to on-premises infrastructure to enable true hybrid cloud workflows.
Adoption of the innovative Aspera Files SaaS and ATS is accelerating, driven by the continued growth in file sizes and data sets and the need to securely share those files across remote teams.
Syncro Services
Syncro Services provides a broad range of distribution and post production services for all types of video and film content to advertising, media, and broadcast communities. Syncro was already familiar with Aspera using the Point-to-Point client to transfer short form clips with its media clients. To support its growing business and the corresponding increase in the size of the media files they needed to work with, Syncro Services moved its transfer workflows to the cloud, leveraging Aspera Files and ATS running on the IBM Cloud with connections to its on-premises infrastructure.
"Files and ATS address our existing content transfer needs and workflows, and allow us to scale both our business and the supporting infrastructure in a very cost effective manner" said Ilan Kometz, VP of Operations Syncro Services.
Fugro
Fugro, based in the Netherlands, is the leading independent provider of geo-intelligence and asset integrity solutions for large constructions, infrastructure and natural resources, providing the technical data and information required to design, construct and maintain structures and infrastructure in a safe, reliable and efficient manner.
Among its services is creation and management of advanced three-dimensional models of the environments in which power plants, substations, mines and industrial facilities will operate. These assets consist of 50 GB to 300 GB files that are uploaded by Fugro teams from around the world for storage and processing using Aspera technology. A long time user of Aspera Shares, Fugro recently added ATS as a fully managed service enabling high-speed, secure transfer of the assets to cloud storage.
"The addition of ATS instantly and seamlessly extended the capabilities of our on premises compute and storage already connected to Aspera Shares to the public cloud. Aspera's distance-neutral high-speed transfer capabilities allow our users to upload to cloud storage at the same speeds they access our on premises nodes with security end-to-end."
Synacor
Synacor is the trusted technology, services and revenue partner for video, Internet and communications providers. A long time Aspera On Demand customer, Synacor deployed Faspex On Demand to ingest and deliver content around the world. To meet the very stringent SLAs established with its customers, Synacor runs all its Cloud services in highly-available configurations with redundant infrastructure.
To preserve its high service levels and reduce its increased costs and operational complexity, Synacor migrated its self-managed VMs to the Aspera Transfer Service, and redirected its Faspex instance to the ATS multi-tenant service. Now ATS automatically scales out to support peaks in demand, and then scales back as transfer loads diminish. The migration was very straightforward, Synacor signed up for ATS online in a few minutes and was able to switch over to Faspex to use the new service immediately.
"Transfer performance and reliability are exactly as they were before we migrated" said Penn Boon, VP Media Services Architecture, Synacor. "From our clients point of view, nothing has changed. From our point of view, we have lower overhead and a smaller operational burden. With ATS, our organization now has the full benefits of a highly available Aspera service with no additional operational overhead, and we only pay for what we actually use."
Reelz Channel
To scale distribution of its ReelzTV Everywhere content, ReelzChannel partners with multiple leading content publishing and syndication services who operate their platforms in the public cloud. Reelz needed a fast and easy way to send large video content directly to their workflows, ideally with no additional integration.
"ATS provided us an instantly available, high speed transfer service allowing us to deliver content with no workflow changes directly to our partners' cloud storage. We simply configured our ATS credentials to land video content in their target cloud storage location and use our existing Aspera workflow to upload automatically," said Rob Macaulay, Director, Digital Syndication at ReelzChannel.
asperasoft.com
(MH/LM)
Top Related Stories
Click here for the latest broadcast news stories.