Broadcast News
17/04/2015
Transforming How Media Organisations View The Cloud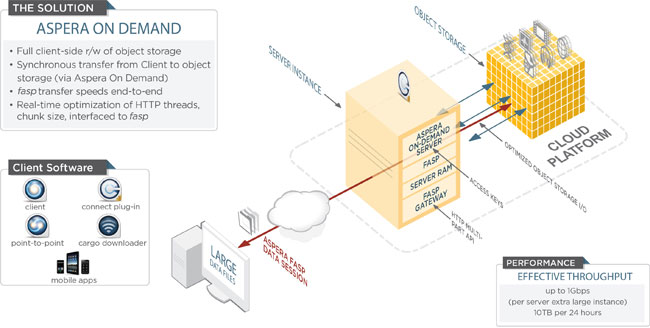 For broadcasters and media organisations, cloud systems promise virtually unlimited, on-demand increases in storage, computing, and bandwidth, without the large upfront investments required to deploy traditional data centres. By Bruce Brewer, European sales director at Aspera.
From a business perspective, the cloud offers content owners three key advantages: it removes the limitations that fixed on-premises computing/storage infrastructure imposes on meeting unanticipated demand; it eliminates the need to build IT infrastructures that can handle spikes in activity only to sit idle most of the time; and it reduces the risk of upfront investment while improving cash flow through pay-as-you-go models, charging only for resources that are actually used.
However, cloud adoption by the media and entertainment industry has been limited because of the problem of moving data into and out of the cloud. Often dealing with data sets measuring in terabytes, media organizations have had to rely on traditional means for moving large amounts of digital content: shipping hard disk drives to a cloud provider and hoping that they don't get delayed, damaged or lost, or transferring data via the web using TCP-based methods like FTP or HTTP.
To become a practical option for digital content management, processing and distribution, cloud services need a high-speed transport mechanism that addresses two main bottlenecks: the degradation in WAN transfer speeds that occurs over distance using traditional transfer protocols, and the "last foot" bottleneck inside the cloud data centre caused by the HTTP interfaces to the underlying object-based cloud storage.
Solving the big data challenge
The latest advances in high-speed file transfer technologies solve both these problems, delivering the performance needed to transfer large files, or large collections of files, in and out of the cloud. Aspera's patented, highly efficient bulk data transport technology FASP™, enables transfers to occur at line speed, securely, to and from any location in the world. Files of any size and any format can be transferred over any distance, any network, and under any condition. Transfer capacity can easily scale out and back, on demand.
With Aspera, transfers of any size into and out of the cloud achieve perfect throughput efficiency, independent of network delays and robust to extreme packet loss. Users have extraordinary control over individual transfer rates and bandwidth sharing, and full visibility into bandwidth utilization. File transfer times can be guaranteed, regardless of network distance and conditions, including transfers over satellite, wireless, and unreliable long-distance international links. Complete security is built in, including secure endpoint authentication, on-the-fly data encryption, and integrity verification.
Unlike cloud "gateways" which move files first to local attached storage, and then copy the files to the object storage in a second step, Aspera moves the files from source direct to object storage with no stops in between. This is accomplished via a deep integration with the underlying cloud object storage APIS and delivers maximum transfer performance plus adding key transfer management features otherwise unavailable such as automatic retry and checkpoint resume of any paused transfer.
Aspera technology is transforming the way media and entertainment companies transfer and manage large amounts of data. Now, they can quickly scale their operations without the constraints of fixed data centres to deliver more content to more subscribers more quickly.
Entertaining the cloud
The British publicly owned and commercially funded television broadcaster, Channel 4, is one of many broadcasters around the globe that are realizing the potential of using cloud solutions to transfer digital content.
Available through 14 platforms, including set-top-box services Virgin Media and Sky catch up, mobile devices, PCs, connected TVs and game consoles, 4oD offers a variety of programs recently shown on Channel 4's linear channels, Channel 4, E4 and More4, as well as from its archives.
Faced with hundreds of hours of proprietary and third-party content in various formats that need to be delivered to different platforms each week, Channel 4 was hindered by the bottlenecks and reliability issues it encountered during the transfer process. Previously, it delivered content to 4oD via FTP, but with an increase in platforms, particularly those using Adaptive Bitrate video technology, they required a more efficient and reliable solution.
The company selected Aspera on Demand to enable the rapid and secure transfer of thousands of hours of video content to the cloud for its popular video-on-demand service, 4oD (4 on Demand). The broadcaster was able to quickly and easily integrate Aspera On Demand into its existing IT infrastructure that interfaces with several third-party workflows. Videos are first transcoded by a third party for playout on multiple devices, after which the resulting multi-format videos are delivered via Aspera On Demand to the cloud for distribution to various end-user devices and platforms.
By deploying Aspera On Demand, IBM's cross cloud high-performance transfer platform, Channel 4 has significantly reduced the time it takes to transfer over 100 hours of new video content each week – amounting to 100 terabytes of data a year. The broadcaster benefits from a modern, easy-to-manage solution that's secure, reliable and speeds up the entire process. As a result, all video content is transferred efficiently and securely from its playout centre in West London directly to its cloud object storage in Dublin, Ireland.
Image: Aspera On Demand
The article is also available to read at
BFV online
.
(JP/MH)
Top Related Stories
Click here for the latest broadcast news stories.