Broadcast News
02/02/2017
Square Box Systems Announce Product Upgrades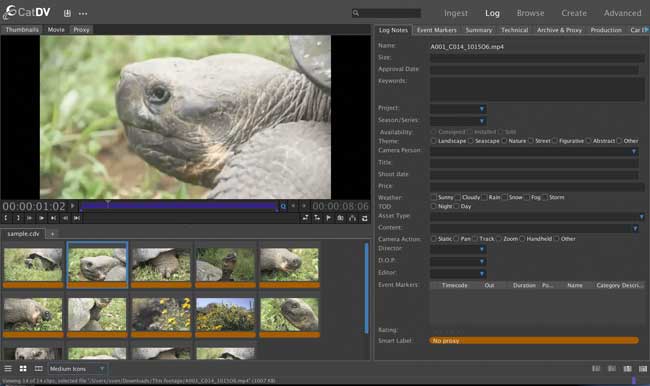 Square Box Systems has confirmed that it will demonstrate the latest version of its CatDV solution at BVE 2017, Stand M46.
CatDV 12 is the latest version of the company's media asset management system. It features an updated user experience along with native support for Square Box Systems' recently introduced Server 7. CatDV 12 also includes further support for audio files, including an advanced waveform display, VU meters, and the ability to handle more audio tracks. In addition, the system's logging and ingest capabilities have been updated. It can also operate independent of specialised video players. With support for large installations, CatDV features a 64-bit architecture and playback engine that natively supports the latest broadcast and camera formats.
Also at BVE 2017 will be Worker 7 for Linux – the latest version of Square Box Systems' workflow automation solution for CatDV MAM deployments. With support for Linux environments, Worker 7 for Linux makes CatDV an ideal solution for large-scale enterprise users who need to manage huge volumes of assets. Worker 7 for Linux features an all-new media engine that supports all major video players, as well as functions designed to make workflow automation and integration easier to deploy.
The CatDV Pegasus Server enables fast, Google-style searches across millions of assets and includes support for Oracle and Microsoft SQL Server databases. At BVE 2017, the company will highlight the product's enhanced security, flexibility, asset usage analytics and reporting, plus audit capabilities.
The CatDV Enterprise Server 7 now features web-based system administration and a REST administration API, as well as other improvements including support for larger customer deployments, centralised path mapping, more efficient search tools, and a fully customised user interface for different users.
Square Box Systems has launched CatDV Archive to Cloud in response to customer demand for the ability to leverage cloud services in their MAM operations. At the show, the company will demonstrate CatDV Archive to Cloud's ability to archive media assets and associated metadata to various S3 based partners, including Amazon S3, SpectraLogic Black Pearl, IBM Cleversafe, and Microsoft Azure.
Image: CatDV 12 Media Asset Management System.
www.squarebox.com
(JP/LM)
Top Related Stories
Click here for the latest broadcast news stories.