Broadcast News
18/01/2017
Having A Whale Of A Time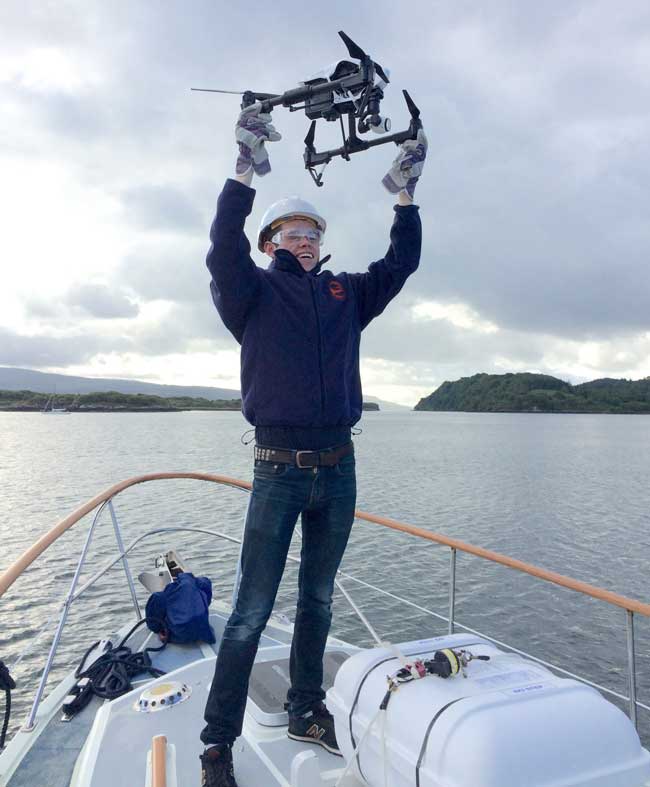 I was in my office one day and the phone rang; it was my colleague Matt. Could I go and film some basking sharks off a smallish boat off the Isles of Mull & Coll with my drones? Oh, and by the way, it's for the BBC leaving Oban in 48 hours. No pressure there, then!
My mind was whirring! Certainly a different job; my mind turned to the risk assessment with several things to consider.
Launching and landing the drone
One thing to consider on a smallish craft is that there is very limited space to launch and land a drone. Add to this mix, is that boats go up and down on the open wave, making landing very difficult. In fact, the best way is to hand launch it and catch it when it returns. For this you need a second person to help you out. However, you have to protect that person as the rotating blades can cause a lot of damage to skin.
I took the boatman, Mitchell, and made sure that he was equipped with the following:
• Hard hat
• Protective Gloves
• Protective Glasses
• Kevlar Chest Protector (I umpire baseball, hence the reason I had it).
Also wise as well:
• Propellor Guards on the drone to add an extra layer of protection against damage (though for this job there was insufficient time to procure some).
He said he felt like a right wally wearing all that gear, though later he did comment that he saw the justification for it (i.e. rough weather).
On smooth water, the launching and catching of the drone went well. However, when we got into a 1 metre swell it lead to some very tense moments due to the boat going up and down over the waves. One moment the drone seemed like it was too low and then the next it was too high. It took nearly five minutes to catch the machine. Safe to say that there were no more flights immediately after that! It's what some of us in the industry call a "brown trouser moment!"
One of the ways you can mitigate the issue is when you come into the land, get the skipper to point the boat into the wind and get him to bring the boat to a stop. Obviously it's the Pilot-in-Charge of the aircraft's call whether to fly or not to fly in the first place.
People on Board
On a confined space like a boat, you have to move people to the back where they are relatively protected – we don't want any nasty accidents.
Secondary Landing Sites and the Return to Home Feature
On a boat there are no emergency landing sites out-with the craft (except very close to land). You must check and double-check the craft before you launch it. On the Inspire 1 from DJI there is a return to home feature. You will have to make sure that you have that switched so that it will follow the pilot and not from where it took off. If you don't it will return from where it took off – boats move – and land in the sea. Oops!
Orientation above the sea
When you are flying above the sea, the usual features that you would recognise to give you some feeling of direction, just don't really exist. This can give you a feeling of disorientation when looking at the video screen. My advice is to get some height and home in on the subject. Additionally, you will have to point the camera vertically because you will need to have the minimal of reflections off the water.
Wind
Out at sea the wind is often much stronger and this must taken into account when dealing with maximum airspeed for the drone. There is no shelter from trees out here!
Whilst this was a much more challenging and riskier form of flying, it can be hugely rewarding with a great sense of accomplishment. It was an immense privilege to be filming these basking sharks and with some very knowledgeable people on board too. The footage on this trip ended up on BBC1 on The One Show. A link to The One Show episode discussing the film can be found
here
.
This article has been contributed by Thomas Haywood, Thomas Haywood Aerial Drone Photography.
www.thomashaywood.com
(JP/LM)
More Aerial Filming Stories