Broadcast News
05/01/2017
Digigram Brings Product Line To BES EXPO 2017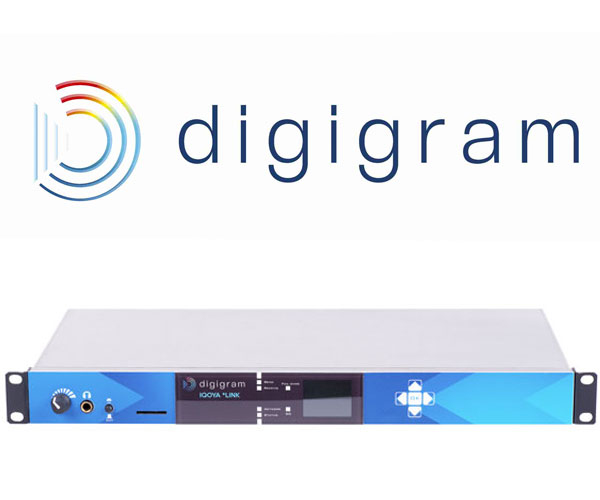 Digigram has announced that it will demonstrate its product range at BES EXPO 2017, at it's partners Technomedia Solutions' stand.
The demonstration will feature its audio-over-IP distribution range, focusing on the IQOYA *LINK and IQOYA *LINK/LE stereo AoIP distribution codecs, as well as the IQOYA *SERV/LINK multiple-stereo or multichannel AoIP codec for IP audio distribution.
The company will also highlight the new compact IQOYA *X/LINK platform, which integrates multiple IP audio codecs and transcoding servers to facilitate low-latency distribution for studio-to-studio links (SSL), studio-to-transmitter links (STL), DVB radio, and web radio programs from low-latency, AES67-synchronous AoIP sources.
Audio-Over-IP Distribution Range
IQOYA *LINK and IQOYA *LINK/LE AoIP Codecs for SSL and STL Applications
The IQOYA *LINK and IQOYA *LINK/LE codecs are full-duplex encoding and decoding solutions for IP-based studio-to-studio and studio-to-transmitter links, as well as audio program delivery to DVB operators. Developed in collaboration with major European telcos, the IQOYA *LINK/LE codec is a cost-effective version of Digigram's full-featured IQOYA *LINK codec.
Based on FluidIP technology, the smart IP audio streaming engine developed by Digigram, both IQOYA *LINK and IQOYA *LINK/LE offer high field-proven mean time between failures (MTBF) and low back-to-back latency. Audio synchronisation is based on Network Time Protocol (NTP), while a web-based user interface simplifies configuration, control, and monitoring and gives users access to real-time metrics on the network.
IQOYA *X/LINK
Housed in a 1-RU fanless rack, the IQOYA *X/LINK is built on an enhanced version of Digigram's IQOYA ARM-based platform and powered by FluidIP encoding and streaming engine. The IQOYA *X/LINK facilitates encoding, decoding, and transcoding of multiple audio programs for distribution over AES67-compliant networks, RAVENNA networks, or Livewire networks.
Facilitating management of multiple audio programs to various distribution targets, the platform supports up to 10 bidirectional stereo codecs and performs multiformat encoding, enabling RTP, UDP, Icecast/Shoutcast, and MPEG-TS/IP streaming.
By offering three network interfaces, the system allows users to physically separate AES67 streams, ACIP streams, and management traffic.
IQOYA *SERV/LINK
IP Audio, SSL, STL, DVB, and Web Radio Program Distribution Digigram's IQOYA *SERV/LINK incorporates multiple distribution codec instances and the company's FluidIP technology on a single processing hardware platform to simplify the transport of multiple audio programs (mono, stereo, and multichannel) over IP networks in a high-density format.
Designed for radio broadcasting and for intercom and commentary for both radio and TV, the IQOYA *SERV/LINK codec allows users to configure multiple-stereo or multichannel solutions for links between studios and between the studio and transmitters, DVB operators, or content delivery networks.
In its 1-RU version, the solution can handle up to eight stereo analog channels, 16 stereo AES/EBU channels, 32 stereo MADI channels or multichannel LAN IP audio interfaces (Livewire and RAVENNA), and up to 64 codecs with multiple GPIOs and RS-232 ports for auxiliary data tunneling. The scalability of the system allows users to mix and expand the supported audio I/Os, and a larger 4-RU version provides higher channel density. The solution supports analog, AES, MADI, Livewire, or RAVENNA audio connectivity and multiple audio codecs (PCM, MPEG L2 and L3, AAC, apt-X). It can simultaneously stream raw RTP, HTTP, and MPEG-TS/IP streams.
Audio-Over-IP Contribution Range
IQOYA *CALL and IQOYA *CALL/LE AoIP Codec for Professional IP Audio Outside Broadcast Applications
Digigram's IQOYA *CALL and IQOYA *CALL/LE codecs allow users to build low-latency IP audio contribution links while keeping costs under control. These codecs are used by Digigram's Mobile Studio and Ultra Mobility solutions.
IQOYA *CALL protects the investment of broadcast institutions within large fleets of heterogeneous ACIP EBU Tech 3326-compatible equipment managed by SIP infrastructure. Its front panel enables simple and straightforward usage in all outside broadcast situations. IQOYA *CALL/LE provides full-duplex IP audio sessions over the internet and wireless connections.
digigram.com
(MH/LM)
Top Related Stories
Click here for the latest broadcast news stories.