Broadcast News
03/08/2016
Leader To Highlight Test & Measurement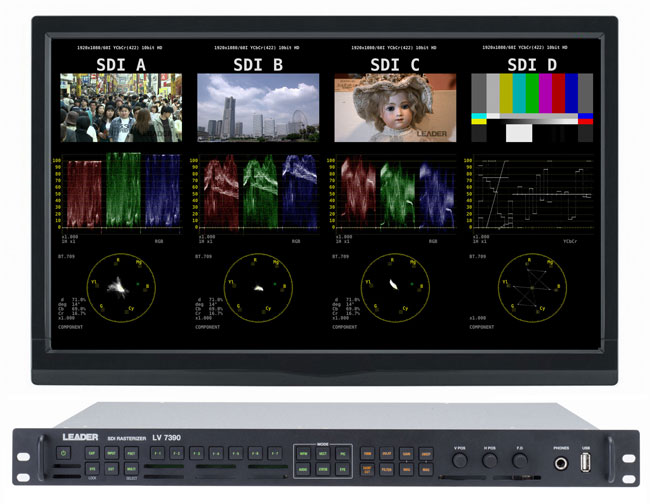 Leader will highlight its latest Test & Measurement solutions at IBC2016 next month, Stand 12.A10.
Included in the line-up will be the
LV5490
multiscreen waveform monitor. Three new options for the monitor will be unveiled at the show, such as a Hugh Dynamic Range measurement. This employs an HDR display using the company's CINEZONE false colors to show areas of concern when operating with HDR content. The display supports SMPTE ST2084 (Dolby PQ curve), ARIB STD B-67 (BBC/NHK Hybrid Log Gamma) and SLOG3.
The second option is 12G-SDI connectivity. This supports 12G-SDI, 3G-SDI quad link, 3G-SDI dual-link and HD-SDI, with each input handling a quarter of the 4096 x 2160 pixel 4K or 3840 x 2160 pixel UHD image. The interface also incorporates a reclocked 12G-SDI output. 12G-SDI eye pattern with jitter measurements will be available as an option.
The third option is support for Sony's IP Live Video, and the Networked Media Interface technology. An impending fourth option for the LV5490 provides support for analysis of high frame-rate 4K signals at up to 8x real-time.
The LV5490 offers 4K, UHD, HD and SD text and measurement features in a compact portable unit. Waveform, vector and picture display can all be viewed at the same time on the 9-inch LCD monitor. The monitor is full 1920 x 1080 resolution HD with wide viewing angle and high colour reproduction. A 1920 x 1080 HD DVI and HD-SDI rasterized output is also provided to feed a larger monitor. Simultaneous viewing of up to four SDI inputs is possible, including overlays. Additional features include video frame capture, instrumentation screen capture, timecode display and ID display. In addition, Leader's CINELITE II toolset also comes as a standard feature.
Also on display will be the
LV5480
waveform monitor, which is a 3G/HD/SD version of the LV5490. It can be upgraded to an LV5490 at any time after purchase and accepts the same range of options.
The
LV7390
is a compact 1U 3G/HD/SD-SDI rasterizer which can be used to measure up to four source channels simultaneously. It can be deployed for desktop or rack-mounted operation. Designed for easy connection into 3G-SDI, HD-SDI and SD-SDI systems, the LV7390 incorporates full-resolution 3G/HD-SDI and DVI-I rasterized outputs which allow detailed video and audio parameters be checked on a separate monitor in full 1920 x 1080 HD resolution. Measurements can be displayed as waveform, vector, picture, audio and SDI status. Display layout is user customisable.
The
LT4610
multi-format video sync generator has been designed for use in broadcast studios, mobile production vehicles, post-production companies and broadcast equipment maintenance facilities, and provides a range of capabilities within a 1U x 400 mm deep footprint. Test patterns available from the LT4610 include 100% and 75% color bars, multi-format color bars and SDI check fields with user-selectable scrolling in eight combinations of up/down/left/right. Scrolling speed is user adjustable from 1 to 256 pixels or lines. Y/G, Cb/B, Cr/R components can be turned on or off independently for each output channel. QVGA (320 pixel x 240 line) 24-bit full color bitmap logos can be transferred into the generator via USB memory and added to any test pattern. The LT4610 has a genlock input and can be synchronized with NTSC/PAL black burst or HD tri-level sync signals. The LT4610 optionally supports GPS and timecode.
A changeover unit for the LT4600 multi format video signal generator, the
LT4446
automatically switches the signal from the primary signal to the backup signal when problems are detected in the former. Changeover is activated if errors are detected in the primary input signal amplitude. A single LT4446 can check 11 channels, sourcing from SDI, NTSC/PAL black burst, HD tri-level sync, AES/EBU digital audio, and word-clock signals. Alarms are generated when errors are detected. The LT4446 is equipped with 11 sets of I/O connectors. Each set consists of a primary input connector, a backup input connector, and an output connector. Error monitoring over an Ethernet network is possible. SDI signals are switched with relays; all other signals can be switched with electronic switches. Primary and backup power supplies are incorporated.
The
LV5333
is compatible with more than 20 HD-SDI/SD-SDI formats and is designed for use in studios, technical areas or attached to a camera tripod. It incorporates a 6.5 inch XGA TFT LCD screen which can be used to display video waveform, vectorscope or picture. Features include cable length display, external timing display and field frequency deviation display. SDI-embedded audio can be extracted and two user-selectable audio channels sent as an AES/EBU stream to a BNC output. The levels of up to eight audio channels can be checked using on-screen bar displays. It can be powered from battery or a universal mains adapter.
Image: Leader LV7390 rasterizer.
www.leadereurope.com
(JP)
Top Related Stories
Click here for the latest broadcast news stories.