Broadcast News
26/07/2016
Bluebell Announces New Products For 4K Broadcasts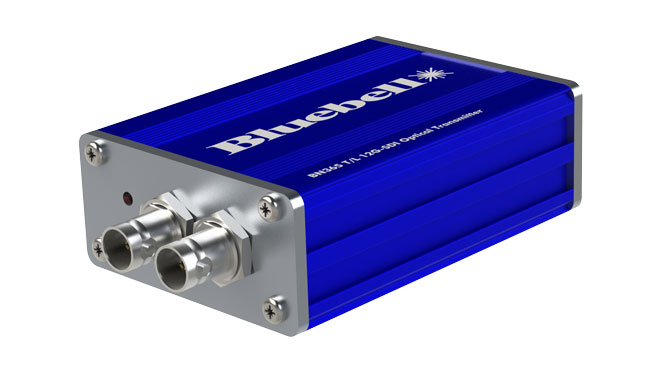 Bluebell Opticom has delivered a range of products that provide a single coax or fibre connection to a 12 Gbps SDI video interface for 4K/UHD applications.
The connection provides broadcast studios and OB operators with a SMPTE 2082-compliant, one-cable alternative to the quad-link HD solutions required for 4K broadcasts.
The current method of transporting a single 4K signal is to send four 3 Gbps SDI signals over four separate cables, i.e. one signal per cable. Bluebell's 12 Gbps SDI solution reduces the cable count for a 4K signal from four to one, thereby reducing the complexity of the setup. The solution also allows customers to use 12G 4K/UHD monitors to troubleshoot source signals in 4K before transmitting an IP stream.
Bluebell's range of SMPTE 2082-compliant, 12G-SDI-capable products includes the BC365, the BN365, and the new BC390. The BC365 card is a dual-channel 12G-SDI link over single-mode fibre. Its stand-alone counterpart, the BN365, is a compact, single-channel 12G-SDI interface unit for remote throw-down applications. Meanwhile the BC390 – which will be launched at IBC 2016 (Stand 10.F24) – is an interface card to support 4K/UHDTV. It will provide an infrastructure transport system, not only for quad 3G-SDI and two sample interleaves, but for serial 12G-SDI on both copper and fibre as well. It will also allow for a very high density of 3G-SDI signals to be multiplexed onto one fibre.
Both the BC390 and BC365 are modular cards designed for Bluebell's BC Series 19-inch rack-based system. They can be used with any other card in the range to build a complete optical infrastructure that links remote 12G-SDI cameras with Gigabit Ethernet, audio, data, and sync signals.
Paul McCann, Managing Director, Bluebell Opticom, said: "We developed this 12G-SDI UHD solution as a direct result of conversations with customers, who have expressed frustration at the lack of single-cable, 12 Gbps SDI connectivity on the market for emerging video equipment related to UHD production. This solution will help our broadcast and OB customers – especially those involved in high-end sports-TV production – not only to save time and money when rigging, but to more easily take advantage of some of the capabilities that 12 Gbps 4K monitors have to offer."
Image: Bluebell Opticom's BN365 stand-alone unit.
www.bluebell.tv
(JP/LM)
Top Related Stories
Click here for the latest broadcast news stories.