Broadcast News
04/05/2017
Bluebell Puts IP And 4K UHD Fibre Transport Front And Center At NAB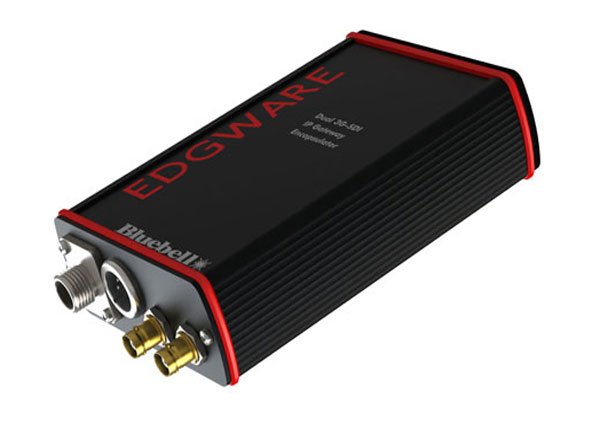 Spring is upon us in the northern part of the globe, and with it our thoughts turn to our annual trip to NAB. Our three main areas of focus this year are 4K UHD fibre transport, SMPTE 2022-7 IP transport, and our BCX-760 camera-back product. By Paul McCann, Bluebell Opticom Ltd.
Since last year's NAB Show, our Designs Department have rolled out some well-thought products that dovetail directly into 4K production workflow and are intended to make everyone's life easier. Have you seen the amount of copper cable used for a 4K shoot? Stacked vertically, it looks as high as Becher's Brook at the Grand National!
With Bluebell's new series of 12G-SDI cards, high piles of copper cable are no longer needed. Our BN390 module converts four 3G-SDI inputs to one 12G-SDI output on fibre – making it possible to reduce four coax cables down to one wavelength on one single-mode fibre. Now, with wavelength management, Bluebell products can carry 16 wavelengths on a single fibre. Even better, they can also handle 16 4K camera outputs on a single fibre. Couple that with the standard SMPTE hybrid cable, which has two fibre cores, and you can immediately move 32 4K UHD channels over a single SMPTE hybrid cable – something every truck in the industry carries by kilometres.
In the same family is the BN365, which is a straightforward 12G-SDI electrical-to-optical converter (and vice versa, of course). The system will handle SD-SDI, HD-SDI, 3G-SDI, 6G-SDI, and 12G-SDI. It senses the input and automatically sets itself up to transport whatever format you put in.
Also on show was the BC370, an optical converter with four 3G-SDI inputs and four optical outputs. It's a rack-based, low-cost converter that eliminates the issue of fibre count.
Meanwhile, the rush towards IP continues. Many IP transport solutions have sprung up only to wither away. My firm belief is that until we have the tools to diagnose video-transport problems quickly within the IP network architecture, IP will remain a battleground. We all remember waveform vectorscopes, VM700s and, more recently, Phabrix. Problems were, and are, detected and analysed in a matter of moments.
Bluebell has come up with a simple product that allows standard 3G-SDI video signals to be wrapped up and sent over IP networks. In effect, it sits on the edge between traditional broadcast and the IP world. Hence its name: Edgware. Edgware comes with an Encapsulator and a Decapsulator and is controlled by a simple intuitive GUI. This "hitless" video transport system uses SMPTE 2022-7 for simple but effective transport.
Bluebell's final offering for the 2017 NAB Show was the BCX-760 camera-back product. It clips between the camera body and the battery using V-mounts or the Anton Bauer system. All the signals present at the camera are encoded on a 10G Ethernet fibre link and presented to the base station. The idea behind this system is to use a camcorder as a proper rackable studio camera, thereby repurposing a cheaper camera for standard studio workflows. The sensor and control system on a camcorder are the same as on a camera channel. Thus, with the BCX-760, the focus, iris, comms, genlock, audio, program, preview video, and even Gigabit Ethernet signals are sent to the CCU. This is a truly symmetrical system that is available with hybrid power, whereby the base station will power the remote end if required.
www.bluebellcomms.co.uk
Top Related Stories
Click here for the latest broadcast news stories.