Broadcast News
19/07/2016
Lighting On Location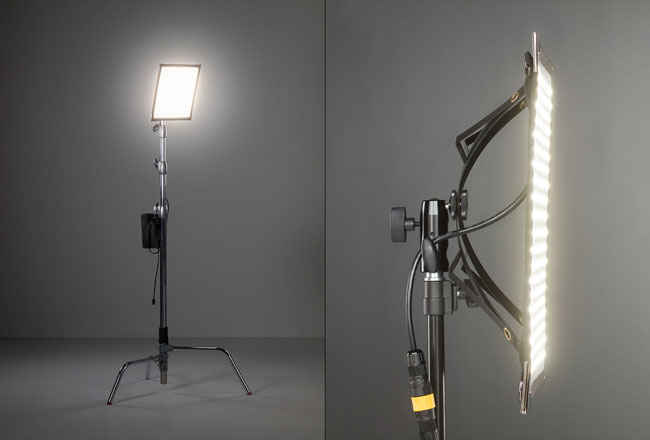 Having been a gaffer for 30 years I have done a lot of lighting on location, writes Ossie Jung, Prolight Direct.
If you can't afford a truck and a generator and a large crew, then the only lights that you can really use are those that you can plug into a domestic socket.
I find that these days on a lot of location shoots production are in such a hurry that we don't even have time to run cables or plug anything in. Also, with health and safety paramount in people's minds, when you do run cables they all have to be taped down which takes up even more time. So now I find myself using battery powered lights more and more; they save time, and nowadays with the variety of fixtures available you can do a great job cable free.
For example, the Stella range from Light and Motion offer a smooth even beam with a variety of light modifiers which gives you great creative freedom. The best thing is that they have internal batteries which give you hours of cable free use, and when they do run out you can always use a V lock with a D Tap cable to carry on using them. They are rugged and waterproof so really go anywhere lights.
www.lightandmotion.com/choose-your-light/stella-pro
Everybody uses light panels these days and they are a life saver, I find the SUMOLIGHT 100 the ideal companion unlike other panels which are fixed angle the SUMO 100 has three beam angle options from 120-60-30 degrees offering you versatility not offered by any other light panel. It will also take a soft box an octodome and lantern attachment. With a CRI and TLCI in the high 90s you can achieve great skin tones.
www.sumolight.com/sumo100-led-fixture
But the star of the show for location lighting is the Aladdin range, super lightweight super bright and flexible, these lights also have CRI and TLCI in the high 90s but their ability to be rigged anywhere really brings them in to their own. They are so light that you can Velcro or gaffer tape them to the ceiling or wall. They also have a number of accessories such as soft box, grid and lantern ball.
With the 4ft version (which rolls up into a small tube for transport) you can have a beautiful soft light. There is even a frame available to put four of the 4fts together to make a 4x4ft soft source giving you the same output as a 2.5 through a chimera, but just 4 inches deep compared to the 6ft of a 2.5 with a chimera. Plus, the option of running this off a battery.
www.aladdinuk.co.uk
With all these tools location lighting has changed for the better, easier and faster, giving more time for the director to be creative.
www.prolightdirect.co.uk
This article is also available to read at BFV online here, page 28.
(JP/MH)
Top Related Stories
Click here for the latest broadcast news stories.