Broadcast News
07/07/2016
Vizrt Selected For TV 2's New Virtual Set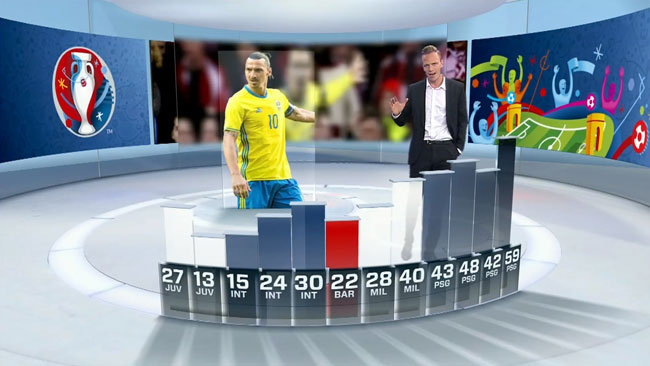 Vizrt technology has been used as part of a set upgrade by Norway television station TV 2. The set was designed for covering the 2016 European Football Tournament.
The size of the set was 5.9m sq with a 3.4m sq walking blue screen area, meaning space was an issue as it was too small to create a new hard set with dimension. TV 2 asked Taiwan-based Dot Connector to design a virtual set for the project, which would look good on air but also accommodate the different shows on the TV 2 schedule. Dot Connector achieved this – including real-time 3D graphics and automation capability – using technology from Vizrt.
The new set includes 23 different graphic looks in one template – created with Viz Artist software – as well as two magic glass windows on set that can transition to six different locations within the small space. The virtual set receives commands from the control room automation system and transforms the floor and back window with 3D images, generated with Viz Engine. In addition, TV 2's studio now displays real-time shadow maps, a feature of Viz Engine that enables the crew to display realistic shadows cast on the virtual set floor for the on-air presenters.
The studio is also now equipped with an advanced robotic camera system from a TV 2 subsidiary company called Electric Friends. There is also a social media component, allowing TV 2 to continue incorporating live Facebook messages and tweets into the live broadcast.
Kenneth Tsai, CEO, Dot Connector, said: "We began this project by asking ourselves, how can we create a beautiful set with a lot of functionality in this small physical space? Our company had done similar things before, but TV 2's existing studio was a real challenge we were ready to face."
Tsai selected Vizrt's Viz Virtual Studio software controlled by a Viz Mosart automation system. Viz Mosart enables a single operator to handle complex productions that would normally require a team of operators. The workflow utilises TV 2's existing newsroom system and the Viz Pilot template-based graphics plugin to create the rundown and push from Viz Mosart automation system to control the set. This allows program directors to pre-program their rundown before the show airs.
"Vizrt's technology provides a very efficient way to use dynamic texture to create clean and amazing-looking virtual set designs," Tsai added. "With Viz Artist even the smallest stage area can be turned into an impressive studio. That's what we did here."
Eivind Netland, Head of Design for News and Sports, TV 2, commented: "It is always a fun experience to work with Dot Connector. Kenneth Tsai and his team worked closely with our internal staff to deliver a stunning 2016 European Football Tournament virtual set. The new sports set has very dynamic functionalities and great templated capabilities to fit into our Viz Mosart workflow. They made the virtual set not just a virtual set, but an instrument that our producer could use to perform the show."
www.vizrt.com
EURO2016 from Dot Connector on Vimeo.
(JP/LM)
Top Related Stories
Click here for the latest broadcast news stories.