Broadcast News
20/06/2016
Eyeheight Adds To Product Range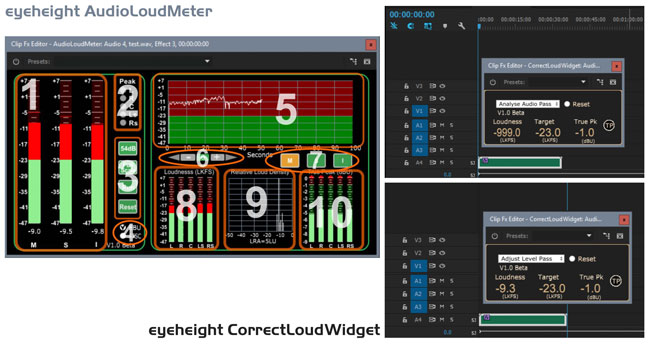 Eyeheight has added to its product range with the first two modules in its AudioLoudnessSuite; the AudioLoudMeter and CorrectLoudWidget.
Both plugins have been designed to operate seamlessly with some widely used video editing applications, enabling programme audio to be conformed to European or North American approved standards.
The Eyeheight AudioLoudMeter is a comprehensive audio loudness metering plugin which evaluates mono, stereo and 5.1 surround. It is compatible with Adobe Premier Pro, Apple Final Cut Pro X and Avid Media Composer, and offers:
• Three bar graphs displaying momentary, short term and integrated loudness respectively
• Five bar graphs showing individual loudness contributions, L, R, C, Ls and Rs
• Five true peak bar graphs using 8x oversampled audio. Each peak bar graph has an additional indicator which latches onto the highest found value from the start of the audio until manually reset. If this value is off the scale, a red arrow appears above the highest point of the bar graph. Digital read out is also shown for each bar graph in Loudness K-weighted Full Scale (LKFS) units.
• An audio loudness distribution histogram with Loudness Range (LRA) measurement
• Time-scalable loudness history graph for ATSC A/85 and EBU 1770 modes of operation.
The Eyeheight CorrectLoudWidget is a loudness analysis and correction plugin for use with Adobe Premier Pro and Avid Media Composer. Target and true peak values can be changed as appropriate. For Europe, the EBU target is -23.0 LKFS and the true peak level is -1.0 dBU. For the USA, the ATSC A/85 target is -24.0 LKFS and the true peak level is -2.0dBU.
Both plugins will be available via the Eyeheight website for a free six-month evaluation.
Image: Examples of the Eyeheight AudioLoudMeter and CorrectLoudWidget graphical user interfaces.
www.eyeheight.com
(JP/MH)
Top Related Stories
Click here for the latest broadcast news stories.