Broadcast News
07/06/2016
Canon K35 Lenses Re-Engineered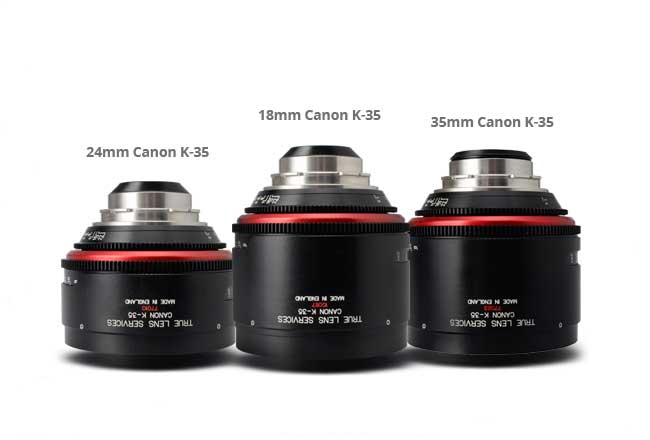 True Lens Services (TLS) has unveiled the latest addition in its re-housing project of the Canon K35 lens series.
The 18mm, 24mm and 35mm lenses are the first in the range of Canon K35 lenses to be converted into TLS cam form. Remaining in the range are the 50mm, 55mm and 85mm which are to be completed and released by TLS this autumn, covering all variants in the K35 series.
With the 18mm, 24mm and 35mm Canon K35 lenses, all have a dual cam system to cover the floating element movement, plus an extended focus scale with approximately 300 degrees of rotation.
The cam driven focus system and chassis style lens housing allow matte boxes and other accessories to be attached to the front of the Canon K35 lenses, without affecting focus movements. The benefit of zero backlash and image shift give accurate dual focus scales that repeat on direction and change with the cam drive system, giving wide spread and even markings throughout the distance scale.
The lenses are made of aluminium alloy, stainless steel and brass, providing a long, serviceable life.
www.truelens.co.uk
(JP)
Top Related Stories
Click here for the latest broadcast news stories.