Broadcast News
17/05/2016
Sixty Selected For TV 2 Norway Project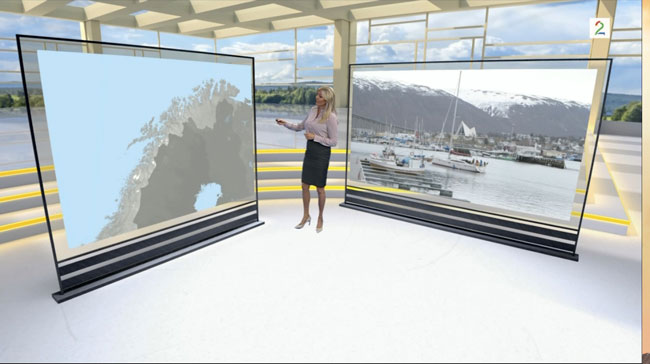 Sixty, the TV experience company, has recently delivered a new weather studio for Norway's broadcasting company, TV 2.
The studio, which utilises Vizrt's Viz Engine for real-time 3D graphics, is a virtual set with functionality that can also enable the use of augmented reality.
TV 2 Norway wanted an improved weather studio with more flexibility, where they could move away from the traditional weather forecast to one that would allow forecasts to be delivered in a more engaging way by bringing to life phenomena such as snowstorms, avalanches and hurricanes. A further requirement was to make the weather studio appear larger than it is by using a virtual set.
The project is the first time that Sixty has created a complete virtual set to be used together with Electric Friends robotic cameras. The cameras deliver accurate mechanical tracking of the physical room and enable automatic camera movement that can be triggered together with the graphics, making it easy for the producer to control the advanced content of the broadcast.
"The new studio combines a traditional virtual set with augmented reality, meaning it gets the best of both worlds," said Kjetil Horneland, CEO, Sixty. "Augmented reality also allows the weather show to be broadcast from outside the studio for events and special occasions, giving the broadcaster significant flexibility. Like many other broadcasters, TV 2 is looking to increase viewer engagement in everything it does – and that's where we at Sixty excel."
"Sixty's solution adds more flexibility when creating the content for our weather forecast," added Eivind Netland, Head of Design, News/Sports/Current affairs, TV 2. "Our viewers will enjoy both the design and the visual experience being restyled by Sixty."
www.sixty.no
(JP/LM)
Top Related Stories
Click here for the latest broadcast news stories.