Broadcast News
19/07/2016
Sixty Announce New Features For Ease Live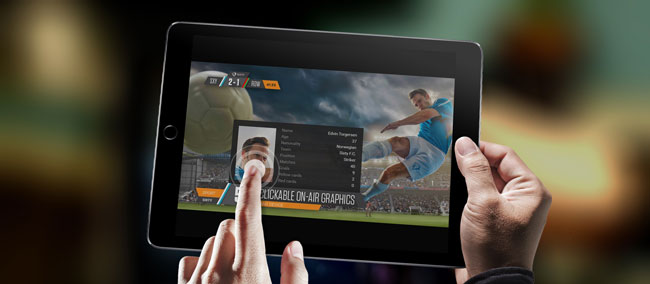 Sixty has announced a new feature set for its Ease Live system. The upgrade will be demonstrated later this year at IBC 2016.
Ease Live integrates any existing broadcast graphics system or workflow and allows broadcasters to send statistics, highlights and other information from their graphics systems directly to end users. Taking advantage of the data feeds already in use for the linear broadcast, Ease Live ensures the data is interactive and available to viewers with no requirement for further integration.
One of the new features is Ease Live's integration with Vizrt's Viz Engine, enabling broadcasters to use any graphics control system to execute graphics, and still have all events synced to the Ease Live server.
Another feature is time code synchronisation. Ease Live remains synced with the video stream. Even if the video is delayed by an unpredictable network connection at the viewer's end, the graphics will always play according to the timecode at the time the graphics are executed in the studio control room. Using timecode or timestamps, the system enables the possibility of pausing and rewinding with synchronised and still interactive graphics.
Ease Live can also integrate with vision mixers. It can monitor when the vision mixer takes the broadcast graphics on air and synchronise the interactive graphics accordingly.
In addition, broadcasters can now set the language for all graphics to match viewer language, based either on their geographical location or by individual user preference, without having to broadcast additional video feeds.
All user activity with the interactive Ease Live graphics can also now be logged for statistical purposes, giving broadcasters and advertisers valuable feedback.
Kjetil Horneland, CEO of Sixty, said: "The enhancements we are showing in Amsterdam are all designed to make Ease Live even more capable and easy to use. Merging internet with TV means you get a whole new world of interactivity which makes this a truly compelling solution that can deliver real value to broadcasters."
www.sixty.no
(JP/MH)
Top Related Stories
Click here for the latest broadcast news stories.