Broadcast News
18/04/2016
Atomos Adds Shogun Inferno To HDR Blaze Range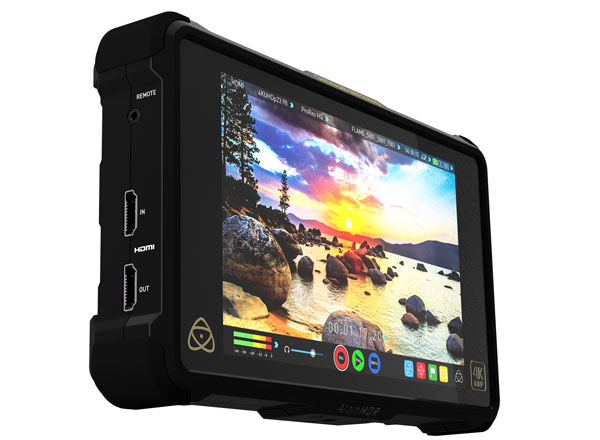 Atomos has "redefined the monitor recorder category" with the Shogun Inferno.
Combining the most advanced monitor technologies – 1500nit/10bit/HDR, the latest recording capability – the Shogun Inferno makes mastering a high resolution, high frame rate, high dynamic range workflow available to all filmmakers.
Shogun Inferno sits as the flagship model in the new 8-strong Atomos HDR line-up which has expanded to include HDR as a free update to the Blade HD series, Ninja Assassin, Shogun and Shogun Studio along with the recently announced Flame series.
"The best technology booms are the ones that truly WOW long standing professionals. HDR on the Atomos products leaves even the most experienced video professional excited like a kid in a candy store – never before have you actually been able to monitor and shoot what you are actually seeing" Jeromy Young CEO and Co-founder said.
"Just as we opened up the changeover from MPEG to ProRes and the upgrade from HD to 4K, we're focused on ensuring the exciting breakthrough that is HDR easily becomes part of every filmmaker's arsenal. To do this all at 4K 60p is a real revolution."
Shogun Inferno has all of the premium monitoring features previously announced on the Shogun Flame i.e. 10 stops of dynamic range with AtomHDR, 1500nit brightness for outdoor monitoring & 10-bit processing for smooth color transitions.
In addition, Inferno also adds"
• High quality 4K 60p and HD 240p ProRes and DNxHR recording, from either a video or Raw signal – perfect for sports broadcasters and slow motion recordings
• Raw to Raw CDNG recording up to 4K DCI/UHD 30p or 2K/HD 120p. CDNG support will also be added to existing Shogun Flame, Shogun and Shogun Studio users one month after the launch of Inferno.
• Versatility of Quad SDI connections to let you input from cameras with 1.5/3/6/12G SDI outputs without the need for converters – perfect for 4K HDR multi cam events
• PQ (ST-2084) input that allows you to use Inferno as a grading monitor in Post
• PQ (ST-2084) output standard HDR to compatible TVs and monitors
The Samurai Blade, Ninja Blade, Shogun and Ninja Assassin also benefit from getting a free upgrade to the AtomHDR image processing for their 400 nit, 8-bit displays. This is possible because Atomos control both OS and the LCD display engine allowing previous generation HD products to receive this amazing feature for free.
This gives a preview of the Post Production HDR result in the field so that judging exposure and bringing it into Post for HDR or SDR delivery is possible for shooters who have a Log output from their camera. The free OS upgrade to gain AtomHDR for Blade, Shogun, Ninja Assassin and Shogun Studio is scheduled for May 2016.
In addition to the announcement of Shogun Inferno and the expanded HDR line-up, Atomos have made further announcements at NAB to support this new 4K 60p, HDR world;
atomos.com
Top Related Stories
Click here for the latest broadcast news stories.