Broadcast News
12/04/2016
Vortex Introduces 10-Station VX-4901 IP Intercom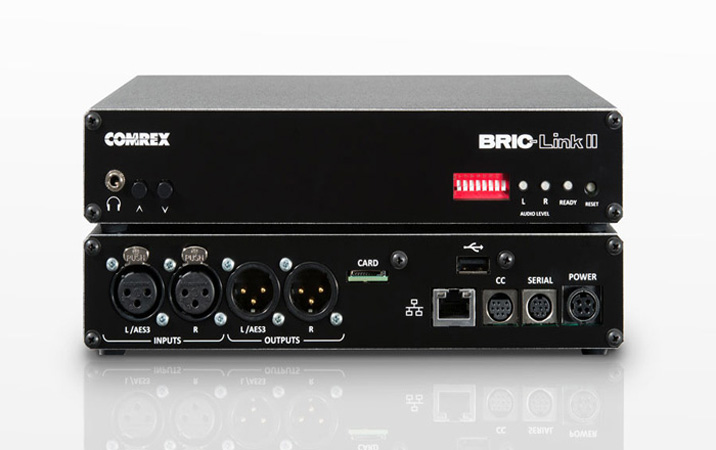 The VX-4901 Intercom Panel has a matrix of programmable pushbuttons that provides an interface for making connections to 10 different destinations.
It works with Comrex BRIC-Link, ACCESS and other IP Audio codecs to provide a low-cost solution for IP Intercom connectivity. The VX-4901 has an XLR mic input with phantom power capability and stereo output via headphone or built-in speakers with volume control. Designed to sit in the same 1-U rack adapter as the BRIC-Link II codec, it uses the same power supply with loop-through power to the codec and incorporates a built-in network switch that provides connections for both the VX-4901 and BRIC-Link units, offering full IP integration with a single cable to the existing LAN. Its in-built web interface is simple to use for configuring the destination Intercom Codec names and details of the local unit to control.
Each pushbutton can be individually mapped and settings are stored in non-volatile memory. The buttons are multi-function: holding down a pushbutton for over 1 second operates as push-to-talk whilst tapping the button momentarily will "latch-on" the connection until pressed again, ideal for listening to open talkback.
When connectivity is provided using ACCESS or BRIC-Link codecs with Switchboard Server accounts, network firewall issues are simplified, without the need for prior setup of the local network, making the VX-4901 intercom solution ideal for connection via commonly-available internet gateways.
The VX-4901 has immediately established itself in the IP intercom market and Vortex has already supplied units through its customer Beta-6 to Tata Communications for their Formula 1 project.
The VX-4901 Intercom Panel complements other Intercom products from Vortex which is the main distributor for Unity, a software intercom solution that uses smartphones as intercom stations. Unity Intercom uses a Mac computer as the central server for all connections, with any Android, iOS, Mac or Windows devices acting as Intercom Stations. Unity can be connected over a LAN or via the Internet by entering the Unity Server's public IP address. All the standard intercom features are at your fingertips: just press and hold for push to talk or double-tap for latched-on, full duplex audio. Program Audio is also available from the Unity Server via an audio interface connected to the same computer. The Audio I/O licence allows you to add multiple audio interfaces, giving you the ability to hardwire your existing intercom to your Unity system. Wireless Intercom solutions are also compatible with Unity. You can access your free trial at
www.unityintercom.co.uk
and get a 5% discount when you register using the code "vortex".
If you happen to be at NAB, be sure to check out Comrex at booth C1663 where there are plenty of updates on show. The recently-released firmware version 4.0 for the BRIC-Link II and ACCESS audio codecs brings multi-streaming as well as numerous GUI improvements, Crosslock VPN capability and redundant transmission and bonding functionality. Ethernet, WiFi and multiple 3G/4G USB dongles can be used together and Crosslock will manage each device to get the best possible connection. BRIC-Link II's new USB port allows you to add a second Ethernet connection to your unit to make full use of update 4.0. On the IP Video side, LiveShot recently received its largest update yet: LiveShot 1.4.1 has been re-engineered with improvements to its Adaptive Management Engine to get the best out of available networks. Whether it's high or low bandwidth, LiveShot will give you the most reliable bidirectional connections with the lowest latency possible.
Comrex will also be showing off their new product, the VH2, which is a 2-line VoIP Hybrid with convenient front panel controls and the ability to connect as an extension to several VoIP PBXs. For more details these new products and updates, be sure to keep an eye out for any of our team at NAB. For those who are not at the show, head over to
www.vtx.co.uk
, send an email to
info@vtx.co.uk
or call +44 (0)20 8579 2743.
(JP/LM)
Top Related Stories
Click here for the latest broadcast news stories.