Broadcast News
21/11/2018
Unity Audio Installs L / C / R Monitoring At Hurricane Sound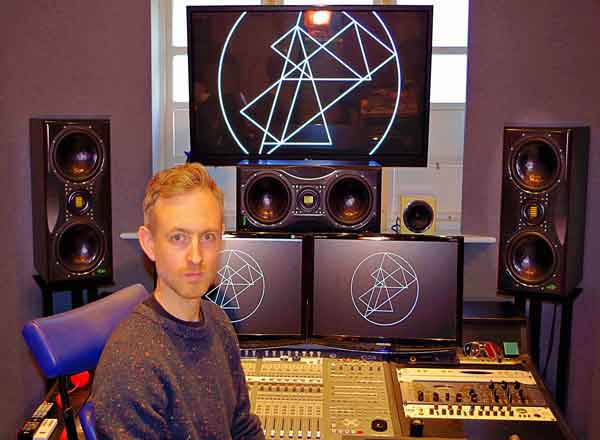 Unity Audio has recently installed L / C / R monitoring at Hurricane Sound utilising the latest MK-III Boulders as part of ongoing upgrades to Thom Paisley's 7.1.2 Dolby Atmos studio. Unity Audio Monolith 3 leg adjustable height steel speaker stands were also specified for the job.
"The imaging is incredible which is vital in a multi-channel set-up," said Thom. "I was looking for a very accurate, full-range monitor able to deliver the same depth and scale I'm used to hearing when mixing on large theatre systems. I get that with the new Boulder MK-III's, even at low volumes.
"I also took the opportunity to audition the new smaller Unity Audio two way near-fields and was equally impressed. The next upgrade stage will include several pairs of the new Rock MK-III for the surround channels, and the new Mini-Rock which will be installed on the ceiling for the Dolby Atmos channels."
Hurricane Sound specialises in audio post for high-end film trailers as well as working on a wide range of broadcast and music projects. Recent titles include First Man, Halloween, Peter Rabbit, Mamma Mia and The First Purge.
The MK-III model further redefines expected levels of sonic performance and accuracy for this truly world-class monitoring system and fits into any critical listening environment or scenario. The new eye-catching surface of the precision built 8.5" / 220mm Crystal Membrane woofer is more than just an attractive design feature. Resembling the surface of a large crystal, the aluminium-foil stamping stiffens the aluminium dome, diminishing resonances and minimizing coloration, whilst improving power handling and dynamics down to mid 30Hz territory.
The unique and exclusive centrally mounted compact Coaxial X-JET 5" mid-range driver and 50kHz folded ribbon tweeter design assures true point source phase accurate delivery across its entire frequency spectrum from 694 Hz to 50 kHz, eliminating phase rotation and frequency anomalies. 
The result is exceptional imaging and detail, significantly improved impulse and power control providing much improved dynamic range and an even frequency response and dispersion throughout the listening space. The X JET driver can be described as dynamic and detailed with depth and spaciousness over a broad listening area. The concentrically located JET5 ribbon tweeter uses a unique folded ribbon technology providing a wide, smooth dispersion and a flat frequency response exceeding 50kHz.
The MK-III model now features 2x 300 watt Class D amplifiers and their own dedicated power supply to drive the 2x 8.5" / 220mm woofers, while the mid/HF coaxial X-JET drive unit is powered by 2x 75 watt custom Class A/B amplifiers with a dedicated power supply.
The Boulder MK-III delivers a life-like sense of scale and takes any performance in its stride offering high SPL figures with incredible effortless dynamics and transients. The MK-III provides a reduced stray magnetic field with higher efficiency, improved dynamics and smooth and even frequency dispersion.
www.unityaudioproducts.co.uk
www.hurricanesound.tv
Top Related Stories
Click here for the latest broadcast news stories.