Broadcast News
22/05/2015
Unity Intercom From Vortex – Multi-Channel Production Intercom On The Devices You Already Own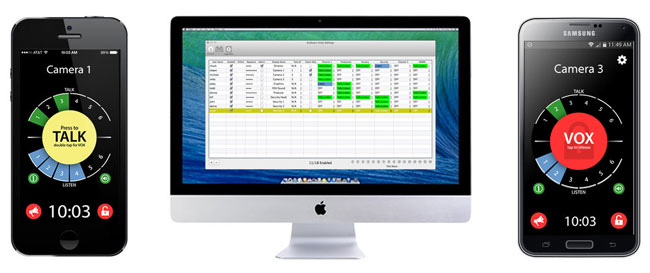 Unity Intercom provides a low-cost, novel and reliable IP intercom system that allows you to use your existing smartphones as Intercom stations. Vortex is pleased to have been appointed exclusive distributor here in the UK and with Unity, it is now possible to get going for about the price of a couple of conventional Beltpacks.
Unity works by connecting over Wi-Fi or via a mobile network to a "Unity Server" providing Talk and Listen on multiple independent channels, as well as an independent programme audio feed. The free apps downloaded onto iOS or Android devices convert smartphones into wireless intercom stations from which the Talk and Listen channels can be selected. It works in both 4-wire (broadcast) and 2-wire (user to user) mode with a large Push-To-Talk button that can be momentary or latched. Unity can also display camera "On-Air" Tally and integrates with hard-wired communication systems like Clear-Com or RTS, letting you use Unity as a wireless station.
In Broadcast, effective communication between the camera operators, control room and studio floor is essential. In live performance, backstage teams such as lighting, sound and front-of-house all need clear communication with the Directors and Producers. And for outdoor events, coordinating teams across a large area can be a nightmare and Unity Intercom bridges the gap between Event HQ and the teams out in the field, using either WiFi or mobile connectivity.
The heart of each system is the Unity Server that runs in the background on a Mac computer and handles the audio and user permissions for each of the connected Unity clients. It is used to add and manage user accounts and to configure additional add-on features like Unity Tally and Audio I/O. Any number of users can be created with as many enabled at-a-time as licences purchased. Permissions are assigned to users so that when the mobile device logs-on, different users can see and use different parts of the Unity system.
For the mobile intercom stations, the appropriate iOS or Android Unity app is downloaded (free), Listen and Talk channels are selected – then simply Push-to-Talk (PTT). The smartphones can be equipped with headsets – either cabled or Bluetooth – or used in speaker mode. When a user logs into a Unity client they are presented with Listen and Talk selections for each of the intercom channels for which they have permission. The large Talk button provides clear access, especially useful in busy situations. There's a Program Feed volume control so each user has independent level control over the main house audio feed. The user screen allows one-to-one communication and even provides the option to page a user by sending a notification to their phone if the Unity app is not running. Users enabled as administrators have two extra buttons at the bottom of the interface for "Page All" and "Mic Unlatch" – useful if a station has been left in Vox mode with an open mic in a noisy environment.
In addition to the mobile apps, the Unity Desktop Client is ideal for those already sitting in front of a computer, running lights, computer graphics etc. who also need intercom communication. The Unity Client can be set to "float" on top of other windows where a quick click gives access to all of the features of Unity – including Tally which can show when the workstation is "On-Air" for example.
14-day trial software can be downloaded from www.vtx.co.uk/unity, where you will also receive a 5% DISCOUNT off normal end-user pricing. Vortex Communications Ltd. 020-8579 2743.
This article is also available to read at
BFV online
.
(JP)
Top Related Stories
Click here for the latest broadcast news stories.