Broadcast News
08/04/2016
PlayBox Technology Adds To ProductionAirBox Neo Capabilities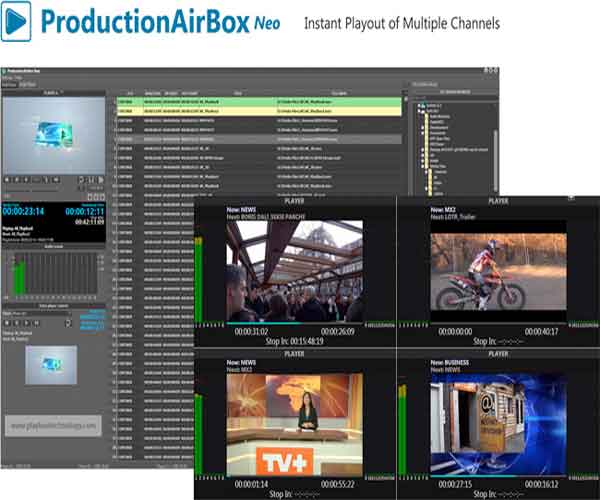 PlayBox Technology Limited has expanded the capabilities of its ProductionAirBox Neo multichannel playout server. It now integrates support for the NewTek Network Device Interface (NDI) open protocol for IP production workflow.
NDI allows multiple video systems to identify and communicate with one another over IP, and to encode, transmit and receive many streams of high quality, low latency, frame-accurate video and audio in real-time. The protocol can benefit any NDI compatible video device, including video mixers, graphics systems, capture cards, and many other production devices.
"The adoption of NDI throughout the production environment is one of the most important broadcast media developments currently progress," said Stanislav Petkov, CTO of PlayBox Technology Limited. "IP greatly simplifies the task of interfacing products from multiple vendors by allowing device control data as well as media content to be sent across a single bridge. We have identified NDI as the most promising of the various proposed protocols. It is inherently compatible with a very wide range of applications and devices. NDI will streamline our solutions and create a more user-friendly production environment than was ever possible in the SDI world.
"Integrating the NDI protocol enables ProductionAirBox Neo to send up to four channels of low latency, high quality video and up to 16 channels audio to NewTek's TriCaster or any other NDI compatible device. Broadcasters can now focus fully on creativity, free from compatibility issues between different parts of their system."
ProductionAirBox Neo is a media manipulation and delivery system with the near-zero latency demanded for the fast-paced work environment of broadcast news, sports and live production. A range of file formats and resolutions can be imported into the playlist, with up to 16 digital audio channels to accommodate multi-channel multi-language programmes.
It can be controlled also via VDCP and soon via Media Object Server (MOS) protocols. Changes to the playlist can be made even while on-air. Every clip in the playlist can be trimmed or repositioned on-the-fly using commands such as next, jump or shuttle. All changes are performed without interrupting the current playout session. Up to four independent players can be accommodated on a single server. Each channel has separate playlist and playout control, while each channel can have SDI/NDI program output and SDI superimposed output. Built in multi-viewer output is also available. Operation can be streamlined using single channel and multichannel switchable user interface. Control also can be performed from a PI Engineering X-keys XK-24 USB keypad.
The ProductionAirBox Neo feature set also includes forward or reverse shuttle at up to 32x speed, mixing of different video resolutions and formats in a single playlist, logical content trimming, multi-channel audio output, plus support for a variety of compression standards and media containers.
ProductionAirBox Neo with NewTek NDI protocol support will be demonstrated on the PlayBox Technology Limited booth (N6509) at NAB 2016.
www.playboxtechnology.com
(JP)
Top Related Stories
Click here for the latest broadcast news stories.