Broadcast News
07/04/2016
EMG Sign 4-Year Contract With Sony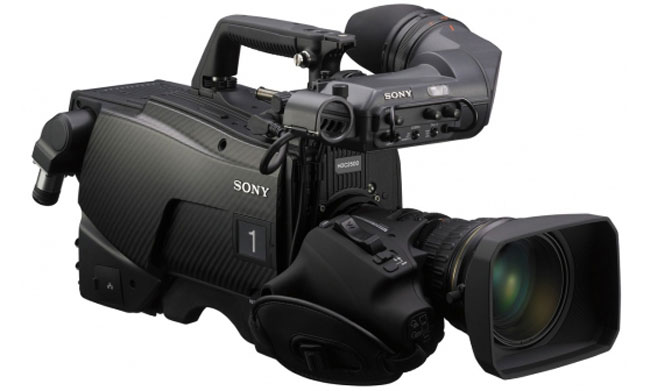 Sony has announced the signing of a four-year agreement with Euro Media Group (EMG). The contract will see EMG increased its broadcast camera fleet through an investment in Sony's HDC-2500 and HDC-4300. Over the four-year period, EMG will purchase up to 350 units of the HDC-2500 and the HDC-4300.
EMG has used Sony cameras in the past, particularly the HDC-1500 – the predecessor to the HDC-2500 – which has played a role in EMG's productions over the past decade. The 3G-capable HDC-2500 is a HD, multi-format solution, while the HDC-4300 has three 2/3inch 4K image sensors – a one camera platform for HD, 4K and super slow motion.
In addition, with today's productions demanding more precise colour reproduction, being able to capture in the BT2020 colour space gives broadcasters a competitive advantage. The HDC-4300 allows Euro Media Group to upscale and downscale easily with integration into existing HD workflows. Aside from providing future proofed features as standard, the HDC-4300 gives EMG the option to enable 4K/100p and HD/400p super slow motion, allowing the option to adapt the camera to different live productions.
"At Euro Media Group, we want to ensure that we are providing the best technologies to our customers. Competition is fierce on the broadcast market and our customers are always looking for more creativity and innovation to make the difference. In the meantime, from a technological point of view, the market is changing quickly," said Ronald Meyvisch, CTO of Euro Media Group. "Our challenge, as a Group, was to select one solution, offering on one hand the high quality images and the innovative features requested by the market; and, on the other, bringing additional operational efficiency within the Group with a reliable, scalable and future proof solution. We are confident that our renewed partnership with Sony will not only deliver on this, but will provide us with increasingly innovative solutions as we look ahead. We pride ourselves on being Europe's leading broadcast service provider, and these new Sony solutions will help us ensure high quality in to the future."
"It is through a deep understanding of our customers' work environment that Sony has been able to become the worldwide leader in its Studio Camera offering. We're very pleased to extend our partnership with Euro Media Group for the next four years, alongside each of their local subsidiaries," added Norbert Paquet, Strategic Marketing Manager, Live Production, Sony Professional Solutions Europe. "The HDC-2500 and HDC-4300 exceed the Group's requirements for extended flexibility and cutting edge, future-proofed technology in a reliable platform. The development of these cameras has been driven by our customers – our team uses their constant feedback to create platforms that suit the need for constant innovation among the challenging demands of Live Production. Euro Media Group has chosen the best suited camera platform to form a core part of their system camera infrastructure, enhancing their reputation as a leading service provider to production companies."
www.pro.sony.eu
(JP/LM)
Top Related Stories
Click here for the latest broadcast news stories.