Broadcast News
31/05/2019
Euro Media Group Acquires Over 40 Sony HDC-3500 System Cameras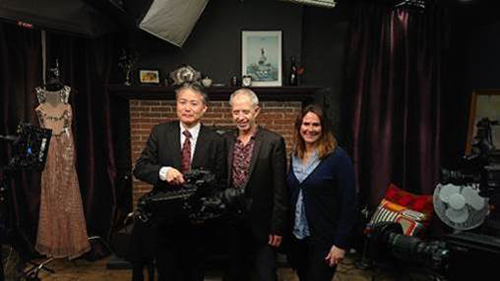 Euro Media Group, has acquired 42 Sony HDC-3500 system cameras with 4K and IP capability.

Sony's offering of service and training support together with the powerful combination of native 4K acquisition and IP capability of the cameras, will optimise ROI and enable reliable and high-quality production across a variety of applications and environments - from studios to sports and entertainment.

The latest investment will supplement Euro Media Group's existing fleet of 4K & IP Capable Sony solutions, including the HDC-4800, HDC-4300 and HDC-2500 system cameras as well as XVS series switcher systems.

Enhancing image quality, portability and creative flexibility
Leading a new generation of powerful yet cost-effective system cameras from Sony, the HDC-3500 gives Euro Media Group flexibility to serve their various clients in the live production environments without compromising on quality and flexibility thanks to backward compatibility with precedent systems & accessories.

The HDC-3500 features the world's first 2/3-inch 4K CMOS sensor with global shutter technology, meaning it can deliver uncompromised image quality in 4K at exceptionally low noise (-62dB), impressive sensitivity (F11 at 1080/50p) and High Dynamic Range. Recently announced at NAB, the HDC-3500 will also support 4K Wireless operations by the addition of the HKC-WL50 exchangeable side panel, making the camera perfect balance for portable operations.

With the same operational method as other HDR capable Sony cameras, the HDC-3500 offers support for Sony's SR Live for HDR workflow which allows simultaneous 4K HDR and HD SDR production by a single team – reducing hardware and personnel costs for the Group's multi-format productions. Thanks to supporting Euro Media Group in efficiently serving its clients for HDR production while also maintaining the highest SDR quality, the company can anticipate tomorrow's production needs while maintaining full compatibility with today's workflows and requirements.

Following EBU's Tech 3371 integration recommendation and full SMPTE ST2110 support, the HDC-3500 complements Euro Media Group's clearly defined IP Technology strategy to develop new concepts using Remote Integration (REMI) architecture to deploy across Europe by 2020. The company already has its first one planned in Netherlands and is on air using other ST2110 compliant solutions from Sony, such as the HDCU-3100 camera control unit and the XVS-8000 video mixer.

All 42 of the new HDC-3500 cameras have been ordered with native 4K and IP capability, signalling Euro Media Group's commitment to combining exceptional image quality with convenient and flexible production.

Euro Media Group's pan-European operations involve equipment being used in many different environments with a fast turnaround time, meaning optimum reliability, scalability and ROI are paramount when selecting new camera technology and solutions. "We need a reliable partner who provides a superb technology and also a high-quality service support – these are the reasons why we've been working with Sony for many years," said Ronald Meyvisch, Chief Technology Officer at Euro Media Group. "Investing in the HDC-3500, complementing our existing fleet of Sony solutions, will accelerate our ability to deliver any type and size of event in precise colour, contrast and detail. It will also enable us to take full advantage of IP for remote production, dynamic allocation of resources, and more. Marrying picture quality and reliability with impeccable operational flexibility, the camera perfectly supports our long-term operational plans and our mission to future-proof with next-generation technology."
Top Related Stories
Click here for the latest broadcast news stories.