Broadcast News
08/11/2018
Signiant Discusses 'IMF Aware' Interface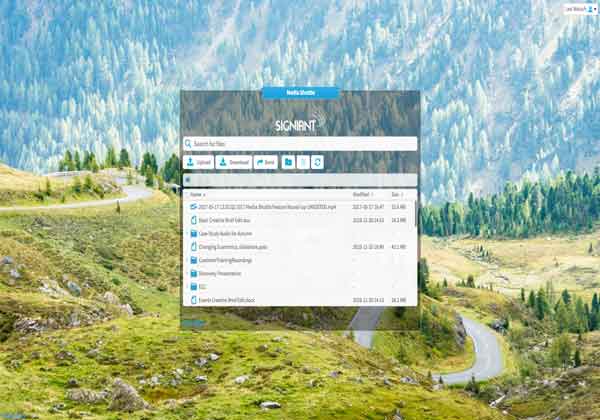 Broadcast Film & Video speaks to Signiant, a market leader in intelligent file transfer, about its 'IMF Aware' interface which streamlines workflows by simplifying the process of accessing the assets required for the creation of a specific version.
Can you tell us more about Signiant's IMF Aware interface and how it is unique in the industry?
IMF master files — which hold video and audio essence files, metadata, and instructions — are typically stored in a single location and access is given to people around the world for building various versions. That places a burden on each person to browse the IMF folder and locate the files they need, with often long and cumbersome names. Signiant has implemented IMF-specific intelligence to Media Shuttle share portals which identifies the CPLs and provides a user-friendly list of descriptive names to choose from, making it easy and fast to access just the files you need.
Media Shuttle itself is unique in the industry as it was the first SaaS solution for accelerated file transfers on the market. Launched in 2012, it's seen rapid adoption over the past six years. Media Shuttle's IMF-aware capability was added in response to our customer's feedback and was recently demonstrated at IBC2018.
As cloud technology becomes mainstream in media, Media Shuttle and IMF have been described as "a perfect match". Can you elaborate on this?
Media Shuttle is deployed as a cloud-native SaaS solution and provides easy, fast and secure access to a shared pool of content. As content is now distributed in so many formats to so many different distribution channels across the globe, Media Shuttle has become the tool of choice to send and share the required (and often very large) files to the appropriate parties. This aligns well with the mission of IMF, and Media Shuttle provides an easy way to leverage the standard.
What challenges does IMF present?
IMF is a very powerful standard but it's also very technical. In order for companies in the content supply chain to take advantage of IMF, there needs to be an easy and secure way to use it. That is what Signiant provides.
Signiant has a very large user base, what has been the feedback from the market?
Signiant's Media Shuttle product just surpassed 400,000 users worldwide and has truly become the de facto standard for sending and sharing large files in the industry. With files continuing to get bigger, workflows more global and more complex and security at the top of everyone's mind, the feedback on Media Shuttle has been tremendous as substantiated by its rapid growth and adoption. Shipping hard drives and using FTP are just no longer viable and — because Media Shuttle is so easy to deploy, manage and use and is priced for companies of all sizes — the response has been outstanding.
What does the future hold for Signiant and can you tell me what solutions the firm is presently working on?
Signiant is one of the fastest growing tech companies in the media industry and we continue to innovate across all our products. One thing we will continue to focus on is our SaaS platform as that allows us to bring powerful capabilities to companies of all sizes, capabilities that were once only available to the larger enterprises.
This article is also available in the November edition of Broadcast Film & Video
here
.
Top Related Stories
Click here for the latest broadcast news stories.