Broadcast News
09/03/2018
Unique Pilot Project Yields Draft Of First SMPTE Technical Specification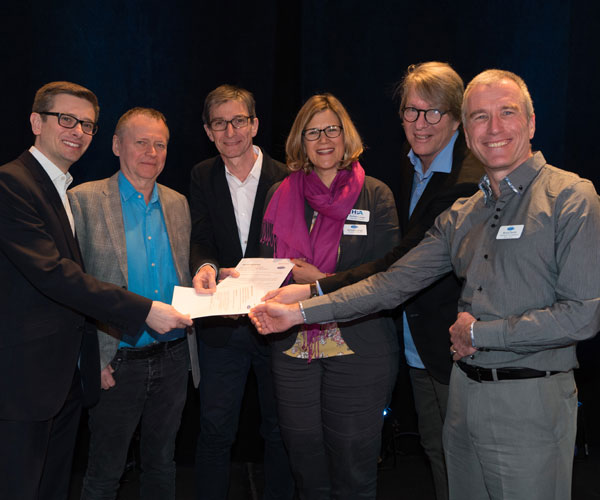 SMPTE and DPP Partner in Rapid Development of IMF Specification for Broadcast and Online Applications; by Bruce Devlin, SMPTE Standards Vice President and founder of Mr MXF Ltd.
Through a first-of-a-kind pilot project for the development of technical specifications for the media industry, SMPTE and the Digital Production Partnership (DPP) have initiated a trial of SMPTE's specification process. On 21 February 2018, at the HPA Tech Retreat in Palm Desert, California; the DPP delivered to SMPTE the first working drafts of the IMF Requirements and IMF Technical Specification for broadcast and online applications.
The draft technical specification represents inputs by the DPP, SMPTE, the North American Broadcasters Association (NABA), and the European Broadcasting Union (EBU), as well as manufacturers and end users across the media industry. Ultimately, the completed SMPTE Technical Specification will bring the benefits of IMF more fully into the broadcast and online realm.
IMF, or SMPTE ST 2067, is a global standard for the file-based interchange of multiversion, finished audiovisual works. The joint pilot project will deliver a technical specification for IMF in broadcast and online applications as a constraint of different, standardised IMF elements. The constraints will cover the MXF Track Files, composition playlists (CPLs), output profile lists (OPLs), and IMF packages. The specification will reference other activities, as well, such as the EBU.io/qc project for carrying quality control metadata and EBU-TT, and it includes optional methods for carrying traditional EBU-STL subtitles in Europe and CTA-608/CTA-708 captions in North America.
The prototype SMPTE Specifications process will be exercised with these documents, resulting in the first SMPTE Specification in the April-May time frame. The process itself will be documented and reviewed by the SMPTE Board of Governors before being offered to the industry as a specifications service open to all.
The new SMPTE Technical Specification for IMF in broadcast and online applications will be published alongside the finalised requirements and will be freely available to manufacturers so that they can design and build readers, writers, and analysers.
This announcement is a historical event for SMPTE — working with the DPP and putting out to comment the very first SMPTE Technical Specification to be created through a pilot project streamlining cooperation between the two groups. Because specifications are more lightweight than standards, they do not go through the same due process. Specifications are intended for early-stage technologies as well as business-driven constraints that require more iteration than standards. A healthy debate at the HPA Tech Retreat showed that there is an industry need for this type of specification, which can formalise technology quickly and reduce the friction of subsequently creating a robust standard. Groups such as SMPTE, the DPP, the NABA, and others can collaborate to accelerate resolution of specific industry issues presented by the fast-paced technology world in which we live.
Built upon the IMF standard, this first SMPTE specification will play a critical role in enabling broadcasters to use IMF workflows with their existing content archives while also facilitating the realisation of file-based interoperability on a large scale.
Development of IMF began a decade ago to address the challenges of global content distribution and, in particular, issues with adapting finished content for the differing languages, standards, regulations, and tastes of various target markets and audiences. Today, IMF provides a file-based framework for the management and processing of multiple versions of the same high-quality finished audiovisual work. Facilitating worldwide distribution via multiple channels, it defines an interoperable set of master files (hence the name!) and associated metadata to enable standard interchange and to automate the creation of downstream distribution packages.
To help the industry better understand the impact and potential of IMF, SMPTE has been offering a SMPTE Virtual Classroom course titled 'IMF Essentials: What You Need to Know'. The course, which frequently sells out, is part of a broader educational program focusing on the IMF family of standards, and — like the nearly complete SMPTE Technical Specification — it is a tremendous asset for any engineer or technologist working to leverage IMF for broadcast and online applications. Information about SMPTE Virtual Classroom courses is available at
smpte.org/IMF
.
SMPTE specifications join the family of SMPTE technical publications including standards, which assist manufacturers, engineers, and technologists to develop new products and services in broadcasting, cinema, and online. SMPTE will be publishing the requirements and then the technical specification for formal review, accompanied by official announcements of the review period. In the meantime, the draft specification is open for informal review and is available for first viewing here:
www.digitalproductionpartnership.co.uk/publication/
.
As this groundbreaking pilot specification project comes to a close, culminating with the formalisation of a new SMPTE Technical Specification, details on progress and significant milestones will be posted on HYPERLINK "http://smpte.org/specifications"smpte.org/specifications. Progress will also be published on the DPP website at
www.digitalproductionpartnership.co.uk/
.
SMPTE will announce formalisation on its website at
www.smpte.org/smpte.org/specifications
.
This article is also available in the March edition of Broadcast Film & Video.
Top Related Stories
Click here for the latest broadcast news stories.