Broadcast News
16/12/2015
Vizrt Selected For KITV Station Upgrade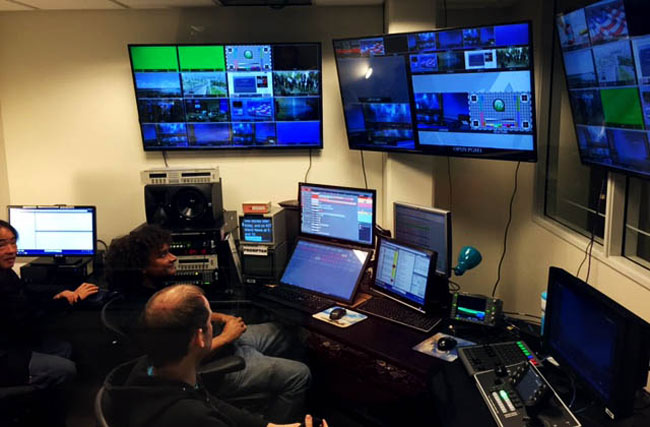 Vizrt's solutions have been selected by KITV – the ABC-affiliated station in Hawaii – as part of its station-wide migration to full HD newsgathering and production.
Recently acquired by Lilly Broadcasting, owner of seven network affiliated television stations across the US, KITV faced a very short timeframe to streamline the station's workflow and complete its HD migration. Their new control room went on-air on 5 December.
To accomplish the transition, KITV chose the Viz Opus compact control room. Based on the Viz Mosart newsroom automation platform, Viz Opus replaces the video switcher and DVE with a real-time Vizrt graphics engine, providing graphics and two channels of video playout as well. The solution will enable the station to increase productivity, add new effects to their shows, and reduce on-air technical errors.
"We were expecting to spend about $120,000 on a new HD production switcher," said Kevin Lilly, President at Lilly Broadcasting LLC. "Plus we needed HD playout servers. With Viz Opus, we were able to get everything in one package – so we're saving money on the equipment, as well as getting tremendous operational efficiencies from the included Viz Mosart newsroom automation."
KITV also purchased a complementary Vizrt Newsroom Package, which will work seamlessly with the station's newsroom computer system. It includes a Viz One compact MAM server as well as a Viz World 3D maps package.
"Over the past five years we have had great success implementing and using Vizrt graphics," Lilly added. "With small companies like mine we need products that are simple to install and operate, but offer that big market look. We are excited to have Viz Opus up and running in KITV and we are now moving to install the Vizrt Newsroom Package so we can give viewers in our small markets the same technical look and feel as a top ten market."
"Viz Opus was created for exactly the type of installation KITV was looking for in a comprehensive automation system," commented Petter Ole Jakobsen, Vizrt CTO. "Local broadcasters need to improve their content creation workflows with affordable solutions in order to compete effectively with larger stations, or ones with bigger budgets. Lilly Broadcasting and its subsidiary SJL Broadcast clearly understand this and are taking the right steps to keep their stations competitive in the marketplace."
www.vizrt.com
(JP)
Top Related Stories
Click here for the latest broadcast news stories.